It was only a matter of time before one of the UK's most well-known brands entered the electric road bike arena. Halfords have been selling electric bikes for a few years now and their new Carrera Crossroad Electric road bike is one of the latest additions to their Carrera e-bike range.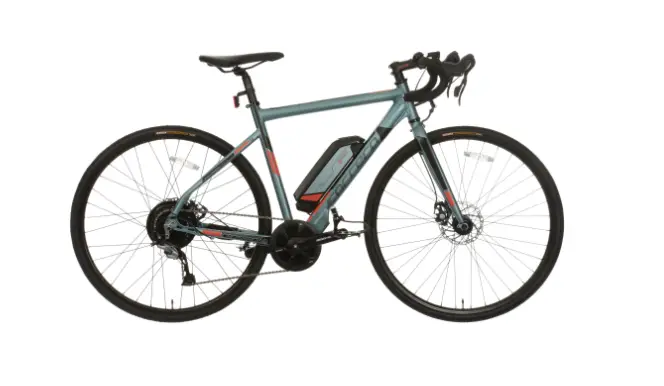 Up until now, electric road bikes have always been a bit on the expensive side, with the Orbea Gain being the cheapest option at nearly £1800. The Carrera Crossroad is much more affordable at £995. In this review, I will be taking a closer look at the specification to see if it offers good value for money.
Summary
The Crossroad is aimed squarely at commuters and leisure riders who want road bike styling with the benefits of electric assist. The Crossroad is definitely more of an adventure/commuter road bike. With Kenda 700 x 32c tyres and Tektro mechanical disc brakes, plus provisions for mudguards and a pannier rack.
Obviously, this bike has been built on a budget to keep the price down. This is evident in the fairly low-capacity 36v 9ah battery and other components.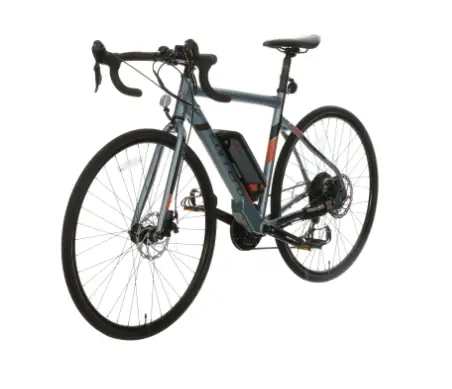 The Microshift 9-Speed STi shifter works well enough, and with a single 42t front chainring and a wide range 11-32 rear cassette, there shouldn't be too much trouble negotiating steeper climbs.
The bike has a nice and relaxed geometry and is a far cry from the more expensive e-road bikes available. The weight is one of the obvious factors, at 19kg it is a whole 5kg heavier than the entry-level Orbea Gain.
Electric Components
Suntour Electric hub motor
The electric motor is the same as used on other Carrera-branded e-bikes.  I have ridden a few of these in the past, and the Suntour geared rear hub motor provides plenty of assistance when needed.  The frame is especially adapted for this motor and the rear dropout is 145mm wide as opposed to the standard 135mm used on most regular bikes.
The torque-sensing pedal assist system works very well and is responsive to rider input. It gives the rider seamless power as soon as force is applied to the pedals, and is very intuitive.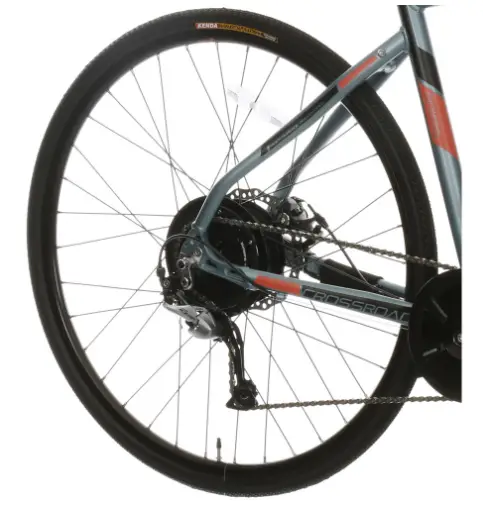 Being a road-legal electric bike, it complies with the EN15194 standard, the motor produces 250w of continuous power (in maximum assist mode) and stops giving assist at around 15mph (25 km/h). Once the motor cuts out you can still easily pedal beyond the limit without too much hassle.
The geared hub motor disengages and the bike will pedal normally without any increase in pedalling resistance. The only thing you will notice is the extra weight of the motor and battery.
Battery
The battery pack on this bike is a 36v 9Ah, giving a total energy capacity of 310Wh (watt-hours). Providing you are frugal with the e-assist, there is no reason why you shouldn't be able to squeeze 40 miles out of a single charge, but if you ride everywhere in full power mode, you will deplete the battery in under 20.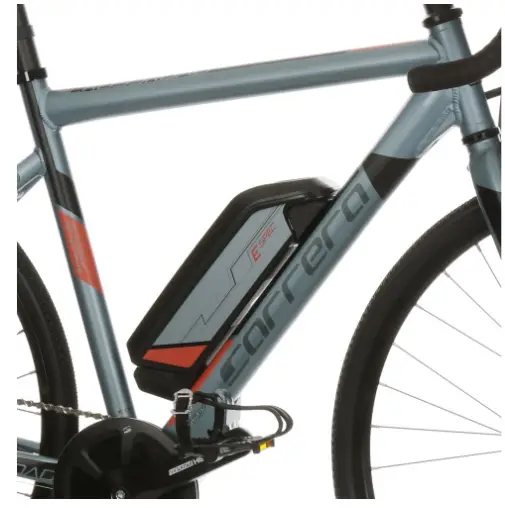 This battery pack can easily be removed from the bike to charge indoors or in the office. It would also be wise to remove the battery if leaving the bike unattended for any length of time, to deter would-be thieves.
Suntour uses high-quality Panasonic Lithium cells in their batteries, so you can expect decent longevity from the battery. It should outlast the warranty period of 2 years easily.
Components
Gearing
The Microshift STi shifter changes gear absolutely fine, and the Shimano Sora 9-Speed rear derailleur indexes nicely. This bike uses a 1 x 9 drivetrain, with a 42t chainring at the front and a Shimano 11-32 Cassette at the rear.
On a regular bike, this set-up wouldn't be a lot of help, especially if you had a lot of steep hills to climb, but with electric assist, it shouldn't be too much of a problem.
Brakes
Braking comes courtesy of Tektro mechanical disc brakes. These are very basic, entry-level brakes, but they should do a good enough job of stopping the bike provided they are properly adjusted.
Wheels and Tyres
The wheels and hubs are unbranded, and the tyres are Kenda K-1053 700x32c, these should offer reasonable grip on a multitude of surfaces including canal towpaths and country lanes. They do have a certain degree of puncture resistance, but I would personally fit a set of Schwalbe Marathon Plus tyres to avoid any inconvenient roadside repairs.
Finishing Kit
The seat post, stem and handlebars are all unbranded Carrera components, the Velo Saddle is okay, but you may want to upgrade it to something a bit more comfortable for daily commuting.
Frame
Overall the finish of the bike is good. The frame and fork are made of 6061 Alloy, and Halfords have kept the overall design nice and simple, with a relaxed riding geometry.
The Crossroad is also supplied with resin pedals with toe clips.
Who is the Carrera Crossroad aimed at?
I would say this bike is aimed squarely at commuters and leisure riders who want to enjoy the benefits of electric assist on a road bike but don't want to spend a packet on an expensive e-road bike.
This bike has been designed to be versatile, the wider tyres and disc brakes make it ideal for riding on light trails or canal towpaths.  It's also perfect for city riding, or riding small country lanes. The larger tyres will definitely improve traction and help take the sting out of smaller potholes.
Reliability
As the Carrera Crossroad is a new bike, I can only gauge its potential long-term reliability when compared with other Carrera models that use the same drive system. Generally geared hub motors are incredibly reliable.
The only thing that can wear over time is the nylon planetary gears inside the motor, but Halfords do offer a 2 years parts warranty with this bike, which when you consider the price, is very good indeed.
You will, of course, be obligated to have the bike regularly serviced at Halfords for the warranty to stay valid, and you would not be able to modify the motor in any way.
Conclusion
I personally think the Carrera Crossroad Electric road bike offers excellent value for money. Normally electric road bikes don't come cheap, and it's nice to see something available at the cheaper end of the scale. Not all of us can afford to shell out £2000+ for an e-bike, and because this bike is so affordable, it will be eligible for the cycle-to-work scheme, making it a sure-fire hit with commuters.
It's true, that you get what you pay for, and it isn't really fair to draw comparisons between the Carrera Crossroad and something like the Ribble SLe or Orbea Gain. That would be like comparing chalk and cheese!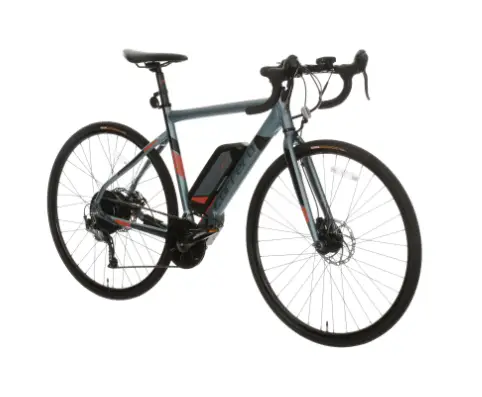 At the end of the day, the Crossroad does what it says on the tin. It may be a bit on the heavy side and have cheap components, but if you want a no-frills electric road bike then this bike is excellent value for money.
Not only is it cheap, but it's actually a half-decent road bike. It handles well enough, and the wider tyres and relaxed frame geometry make it quite a comfortable ride.
All the components are tried and tested, and as far as long-term reliability is concerned, it shouldn't give too much trouble.
If you're after a cheap electric road bike, the Crossroad is the only real option available at the moment, and it isn't a bad one!