The last two years have seen a massive rise in the demand for e-bikes driven by rising car running costs, COVID lockdowns and people's desire to lead a healthier life. In this article, I will be looking at some exciting electric bike business opportunities and ideas that could potentially provide you with a good 'future-proof' income for the foreseeable future.
Industry pundits and leading market analysts have predicted the current upward trend in the e-bike market to continue beyond 2025.
Electric Bike Market Overview
The electric bike market was valued at a staggering $24 billion in 2020. The e-bike market is expected to see a compound annual growth rate of around 11% over the forecast period of 2021-2026 and is predicted to reach close to $50 billion by 2028. Interestingly, I couldn't find any data that specifically included the lucrative e-bike conversion market in this figure – this in itself must be worth billions annually.
Numerous factors are driving this growth, but the COVID-19 pandemic and the subsequent global lockdowns have played a big part. There was a decline in e-bike production during the initial lockdowns but as life is slowly returning to normal, things are picking up pace. One of the consequences of the pandemic is that a lot of people are no longer comfortable commuting on public transport and are looking at affordable alternative ways to commute.
Apart from the increasing consumer interest in recreational activities like cycling, the other main factors driving the electric bike market are the cost of vehicle ownership, environmental concerns and the adoption of the electric bike in industries like logistics and e-bike rentals.
Summary
All in all the future of the e-bike industry looks incredibly promising for a budding entrepreneur who wants to get involved. But what kind of business opportunities are available and how much financial investment is needed?
Thankfully not all of the business opportunities listed below require a large financial outlay – some will require a substantial initial investment, but others can be started from the comfort of your own home with very little financial outlay.
So here is my list of the best electric bike business opportunities.
Below I've listed some of the most popular e-bike business models with a focus on the one I know best – electric bike conversions.
---
Electric Bike Conversion Service
Despite the broad range of electric bikes on offer in 2021, there's still a massive demand for electric bike conversions. Starting an electric bike conversion service can be very lucrative indeed, although it's worth noting it can be a very seasonal business. I still did conversions over the winter but it was very sporadic. Usually from March / April onwards I would get inundated with work through to the summer holidays, – it would slow down in late July then there would be a slight resurgence in the Autumn before slowing to a snail's pace over the winter.
I have to admit that I thought demand for e-bike conversions would taper off once electric bikes became cheaper and more readily available – this couldn't be further from reality. If anything this last year has seen a substantial increase in the sales of DIY e-bike conversion kits and batteries.
There are several reasons this option is still very popular:
Price – A retrofit DIY e-bike build will still work out considerably cheaper than a factory build bike.
Customisation – With conversion, the customer can specify a motor and battery combination suitable for their needs.
Servicing – Most DIY electric bike motors can be repaired much easier and cheaper than their factory-built counterparts.
Sentimental value – even bikes that are 30 years old can be converted
How do I start an e-bike conversion business?
Starting any business from scratch can be intimidating – assuming you're already in a job, I would highly recommend you stick with that job and do conversions in your spare time, while steadily building your business and reputation.  If you are currently out of work, then  I would look into seeing what help is available to get you started. If you're a pensioner, then converting bikes to electric is a great way to earn some extra income during retirement.
What experience do I need?
For starters, you need to be confident in your ability to do the job. It will help greatly if you already have a good understanding of bicycles and electrics from the outset.  My background was in motorcycles so the transition was fairly smooth. If you're a complete novice, then it can be a steep and unforgiving learning curve – if this is you then I would advise maybe doing a couple of conversions as a trial run to see how you get on.
There's no professional qualification relating to e-bike conversions, but you should have a good working knowledge of electrics, bicycles and bicycle maintenance before you get started. Remember, you will be dealing with people's bikes and making mistakes early on will damage your reputation.
You will be installing kits like the Bafang and Tongsheng, so I would head over to YouTube and carefully study some of the excellent installation videos on there.
Will I need premises?
You will need a decent-sized workspace. It's no good trying to do it in the kitchen or conservatory. At the very least you'll need a garage or decent-sized shed in your garden. Space is important because you don't want to be working in a cramped environment, also it doesn't present a very good image to potential customers. If your business is successful and grows, you may want to think about a small industrial unit.
What tools will I need?
This is probably going to be your biggest expense. At the very least you're going to want a full complement of bicycle-specific tools – you can buy on a budget to start with but you may eventually want to invest in some high-quality tools.
A decent bike stand is very important as it will make things a lot easier, especially when installing motors and doing things like adjusting gears or brakes.
Some e-bike motor conversion kits already come with specific tools relating to that motor, but it's worth double-checking. The Tongsheng motor is usually supplied with a special tool (for tightening the motor) but the Bafang kit doesn't always come with a tool so you will need to buy one separately.
A soldering iron is recommended and a multimeter is a useful thing to have, more for diagnostics than anything else. It's also worth buying a USB programming lead for the Bafang – sometimes customers like to have the pedal assist smoothed out and you can do this with a USB lead and free software.
Will I need to buy stock?
Buying the stock isn't necessary. I always ordered kits and batteries as and when required. I would invoice the customer for the cost of components upfront and they would pay the balance for labour on completion of the job. If you are starting from fresh you may need to use something like PayPal as a payment method – there is a small transaction fee, but people feel confident using this payment method as there's a piece of mind in case anything goes wrong.
If you do want to bulk buy some stock up front, you will need adequate storage space as e-bike kits can be quite bulky.
Best place to buy kits
Aliexpress is by far the cheapest place to buy, but there are a few considerations – if you are in the UK, then most of the suppliers ship from the EU and UK residents now have to pay customs charges when buying from the EU.
There are an increasing number of Aliexpress suppliers who have fulfilment warehouses in the UK but the last time I brought a kit from Aliexpress (from a UK warehouse) I was still hit with an additional £100 tax charge on checkout. It's still cheaper to buy direct from China and pay the tax upfront, but delivery times seem to be a lot longer than they were a couple of years back.
If you're just starting then it may be worth buying from eBay or Amazon – you will pay a higher price for the motor kit and battery but you have the added security of a good returns policy and buyer protection plus it's likely the kit will be sent from your locale (although you should check the listing details to be sure).
You could also strike up a direct relationship with a supplier in your country – this can be beneficial for both parties as they will be more likely to look after you if you're a regular customer.
Another good option is to provide the customer with an affiliate link – if you sign up to the Amazon Associates or eBay Partner Network affiliate programs you will earn a small commission every time someone buys through your link. If it's for a £600 e-bike kit with battery, you will earn roughly £20-£30 commission for that referral. If your customer decides they want a Bafang BBS01 mid-drive kit, then all you do is send them the link to a (reputable) supplier on one of these platforms. They will have the kit delivered to them and you fit it.
What do I do about warranty issues?
If you supply the kit then regardless of the warranty arrangement you have with your supplier, the customer will expect you to get it sorted. In my experience, this can be a proper headache as most of the suppliers are based in China and dealing with warranty claims can be very arduous and time-consuming.
Customers expect a warranty of at least 12 months. The right way to go about it would be to make sure you have some spare parts in stock, that way if a common issue occurs you don't need to order a replacement part from China and keep the customer waiting. You will need to thoroughly research the Bafang and Tongsheng motors – it's not a case of if but when you will have a failure. It's something you will have to get used to dealing with. I was very lucky in the first year, but then I had a whole load of controller failures one after the other and I was ill-prepared for it. I went through a stage of spending more time fixing the motors than installing them and you don't get paid for repairs under warranty – if this happens it can be soul-destroying!
If you ask your customer to buy the kit and battery from eBay or Amazon through an affiliate link you are not responsible for any electrical or mechanical failures (unless caused by poor installation) as the customer did not buy the kit from you, but you should still be able to diagnose the fault and offer to replace the faulty part for a small fee. This method would be good if you're just starting and do not have the finances to buy loads of spare parts, but you should be 100% transparent and make the customer aware of this before they commit.
What do I charge?
This depends on how long it takes and what else needs to be done to the bike you're converting. I used to charge around £150 for a mid-drive conversion, but some companies are charging as little as £100. If you're converting an older bike that hasn't been used for a while, it's quite common for the customer to ask you to give the bike a service at the same time. You'll need to check the chain, brakes, gears, cables and tyres and make sure you let the customer know of any extra expense beforehand. Bikes shops can charge upwards of £25 per hour for bike work so that's worth bearing in mind.
Marketing my new business
Marketing a new business is a whole article by itself but I will cover the basics here. Thankfully it's a hell of a lot easier than it was a few years ago – there are lots of free and easy ways to promote your new business which I have outlined below.
Start a website
Having a website is a must for any business these days. Thankfully you haven't got to be an expert web designer to build your professional-looking website and it can be done for free. If you're just after a simple website to showcase your business you can use Google Sites to get a good starter website up and running.
I would recommend designing a website around your brand/company name – you can design the website yourself or outsource it to a web design company. Starter websites are available for as little as £200.  If you're up for the challenge yourself you can use a WordPress-based hosting service like GoDaddy where you can register a unique domain name and benefit from an excellent and easy-to-use website builder.
Building your website is the first step – to become visible to your customers on Google you will need to structure the content of your website in such a way that is relevant to your intended customer base. If for example, you live in Kent, you would want to rank on Google for the key phrase 'electric bike conversions Kent' or variations thereof.
Facebook
This is your most powerful tool – start a Facebook business page highlighting the name and nature of your business. Then get all your friends to like and share your new page. It's surprising how many potential customers you will reach just by doing this.
Free Business Listings
You can utilise services like Yell.com and free local listings – you may also be able to list your services on places like Gumtree.
Google My Business
Google My Business is another excellent free tool you can use to promote your business – you can include links to your Facebook page, website and phone number, plus you can also have your business on Google Maps so customers can find you.
Other ways to promote your business
There are lots of other ways to promote your business, but I would concentrate on the methods above to start with. Facebook and Google are really good tools for promoting small businesses.
My thoughts on running an e-bike conversion business
Like any business, you get out what you put it. Running an e-bike conversion business can be very rewarding financially, but it's fraught with challenges. The days when the phone doesn't stop ringing with customers that are having problems or the times when you install a brand new kit only to find out it's faulty – this may not happen to start with but the more conversions you do the likelier you will experience problems.
It's how you cope with those problems that will see you through. It is very easy to become despondent and feel like throwing in the towel. It does help if you go into a business like this with a decent amount of capital – this will make it easier to deal with any potential problems quickly.
Being upfront with your customers is always good. For some reason, a lot of people seem to think that electric motors go on forever and aren't prone to problems when in fact the opposite is true. You need to make your customers aware of any potential problems down the line and make your warranty and return policy very clear.
If you're doing a conversion for a customer, don't set yourself unrealistic goals – if a customer says they need the bike for a holiday next week, and you're not sure if you can get the job done by then, let them know beforehand.
If you want any advice on starting an electric bike conversion business please leave a comment below and I will reply within 24hrs.
---
Battery repair and building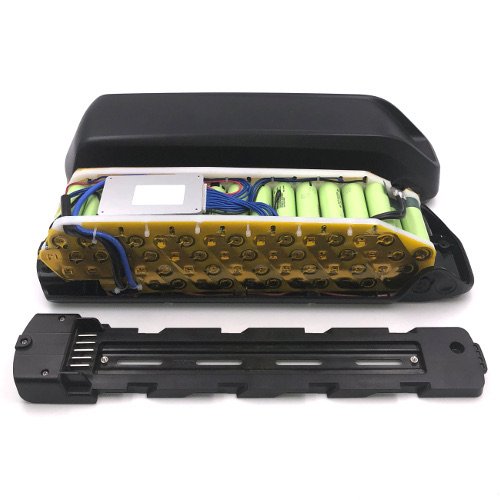 This is a very specialised vocation and will require considerable training and a large financial outlay – but battery technology is evolving at an incredibly fast pace, and being familiar with this technology could prove to be a very useful skill.
---
Electric bike rental
This could be a very lucrative enterprise, especially if you live in an area popular with tourists. Ideally, you would want to be located near a national cycle route like the Sustrans nation cycle network in the UK or similar routes in other countries.
The initial investment would be quite high, and you would require extensive public liability insurance. You would also need to make sure your e-bikes were legally compliant in your country.
Purchasing your bikes
You would need to purchase e-bikes in a variety of frame sizes and would need to make sure they were suitable for the terrain being ridden on. Hybrid electric bikes are good as they are versatile, and can be ridden on most surfaces from tarmac to gravel.
Who will be your primary customers?
Electric bikes are more popular than ever and now appeal to riders of all ages (14 years and over). The best frame style to get would be a low-step frame, as this type of frame can be ridden by anyone – male or female, young or old.
Price
Electric bikes can be purchased for as little as £750, but at this price point, they are likely to have a low battery range and be made of cheap components. Having said that, they usually use simple hub motors and are fairly inexpensive to repair if they go wrong. At the other end of the scale, there are the higher-end e-bikes that use mid-drive motors. These usually start at around the £2000 mark, and can be very expensive to repair once the warranty has expired  – You will need to make sure the manufacturer's warranty covers the bike for hire usage.
Because you will be purchasing ten or more e-bikes in one go, you should be able to negotiate a better price with your chosen supplier. Remember, it is a buyer's market, and if one supplier isn't willing to budge on price, you will always find a supplier who is. You will be investing a lot of money, so shop around for the best deal.
---
Open an e-bike shop
Having a physical store, where you can showcase and demonstrate e-bikes to potential customers is a great idea.
Purchasing a new e-bike can be expensive, and people aren't always willing to buy from an online retailer, because they often want to see the bike in the flesh before they make a decision.
Another important factor is bike sizing. We are all built differently and just because an online sizing chart recommends a certain size for your height, doesn't necessarily mean it will be right for you, particularly your body shape.
Unfortunately opening an e-bike shop requires a substantial initial investment and you will need to choose your location wisely. These businesses tend to thrive in larger towns and cities, where people are looking for a viable alternative to public transport or cars for commuting.
The good news is, the electric bike industry is continuing to grow at a steady rate and this growth is predicted to continue beyond 2025. Another point to consider is that in the early days, e-bikes were very much the preserve of the elderly cyclist, but now we are seeing a trend where more and more young people are purchasing e-bikes, particularly in the electric mountain bike sector.
If you already own a bike shop but haven't started to stock a range of e-bikes, you need to do it now. You already have a shop and a well-established business. New e-bike sales are increasing year on year and it is predicted that e-bike sales will eventually overtake conventional bicycle sales.
---
Conclusion
With fuel prices increasing and the cost of running a car becoming more expensive. E-bikes offer the perfect solution for those making smaller daily journeys. More and more people are enjoying the health benefits of using an electric bike for commuting or recreation.
There are now e-bikes available to suit all tastes whether you're into mountain biking, road riding, touring or gravel riding – electric bikes have moved from the shadows well and truly into the limelight!
Recent global events have resulted in an unprecedented surge in the popularity of e-bikes the world over – it's not just a fad either. As governments look for ways to reduce carbon emissions in large cities, electric bikes are being promoted as a viable form of personal transport with some governments considering incentives like subsidies.
If you are looking for a long-term and sustainable business idea, the electric bike industry has many – the only limits are your imagination!