The Shengmilo MX03 is a fat tire electric bike that has a specification above and beyond, what I'd usually expect on e-bikes at this price point. In this article, I'm going to be taking a closer look at the specs to see if it's as good as it seems.
Shengmilo is a well-established electric bike manufacturer that sells its products in 80 countries. Their main markets are the US, EU and UK. They sell an extensive range of e-bikes including folding, hybrid, and e-MTB.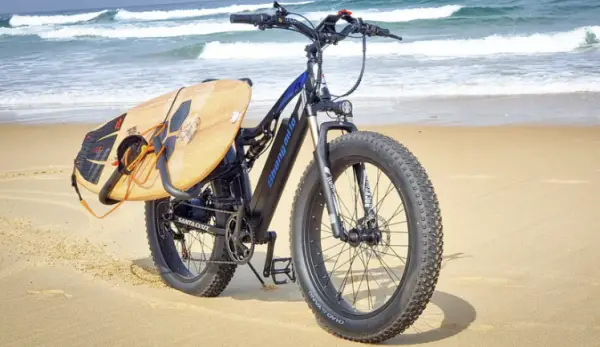 Available now from Geekbuying use code NNNSMLMX03EB – Price: €1,219.99
Shengmilo MX03 Specification
The MX03 is one of the more recent models from Shengmilo. Below, I've gone into more detail on the specification.
Motor
A 1000w 48v brushless, geared hub motor is used on the MX03. Nothing remarkable here – these types of motors are commonplace and are used for their simplicity and general reliability. They produce a very good turn of speed on the flat but do struggle on steeper hills. I have tested similar motors extensively and generally, they perform well on anything up to about 10% gradient. Then they start to struggle.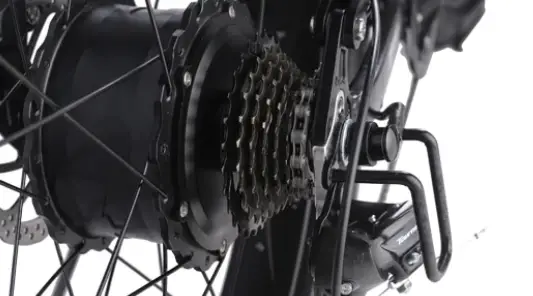 Display
There's a large 3.5″ LCD that shows all the usual metrics including battery indicator, speed, mileage and assist level.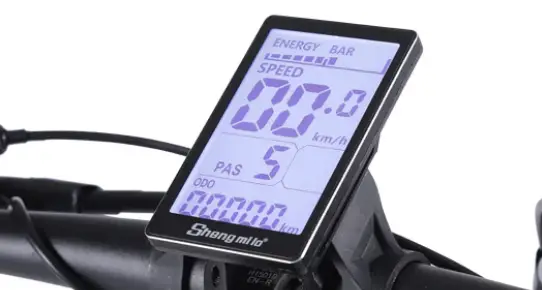 Battery
The MX03 has quite a substantial battery capacity for the price. A 48v 17Ah (816Wh) battery is semi-integrated into the downtube and can be easily removed for charging indoors. Shengmilo state on its website that the 18650 cells used are of good quality, although the exact brand has not been mentioned. The claimed range of 55 miles seems a little optimistic for a 1000w e-bike. It may be possible if the lowest level of assist is used and the terrain is fairly flat.
Gearing
Pretty standard spec in this regard, the MX03 uses Shimano Tourney 7-speed with the obligatory TX50 thumb shifter – perfectly functional, reliable and cheap to replace.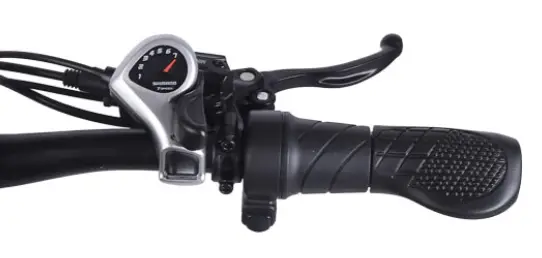 Brakes
It's nice to see hydraulic brakes on an e-bike of this price. I can't comment on the braking performance as these brakes are unbranded items. But going by experience with similar unbranded hydraulic brakes, they usually perform just fine and significantly better than mechanical disc brakes.
Suspension
One of the functions of oversized tyres, is they provide suspension. I've always thought dual suspension on an electric fat bike is a bit overkill, and adds unnecessary weight. Nevertheless, most fat tyre e-bikes have at least front suspension and a lot have dual suspension.  The suspension on the Shengmilo MX03 looks to be a fairly standard, budget arrangement and should provide an extra layer of comfort when riding on rough roads.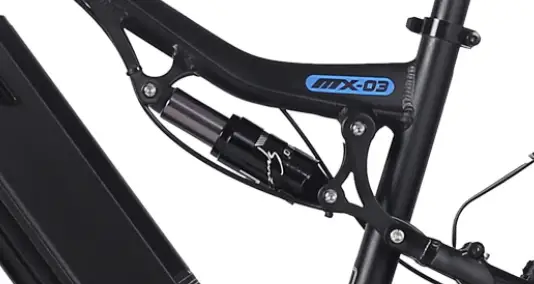 Wheels and Tyres
Unbranded 26″ fat bike wheels most likely use cup and con bearings on the front wheel, which makes them easy to service. The 26″ x 4″ Chaoyang tyres are very common and should provide a reasonable level of puncture resistance and grip.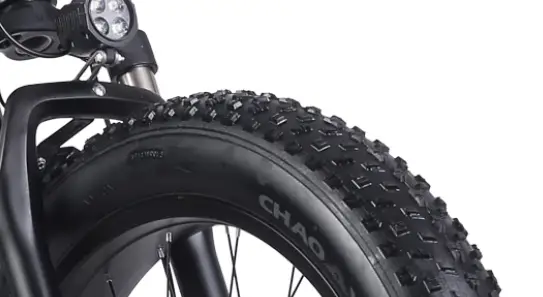 Frame and finishing kit
A 6061 alloy frame is standard on e-bikes at this price. It should be durable and last the lifetime of the bike. The seat post, stem and handlebar are all alloy. The gel saddle looks to be a good size and should be fairly comfortable.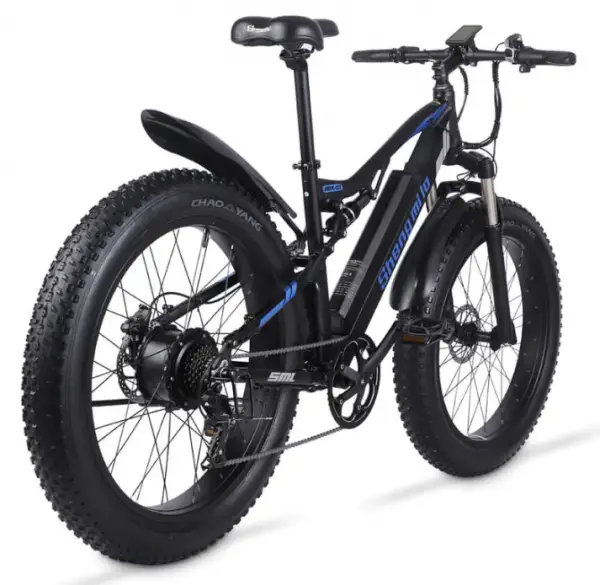 Accessories
The MX03 has some basic accessories like a front light and kickstand. It should be fairly easy to add a pannier rack if one is required.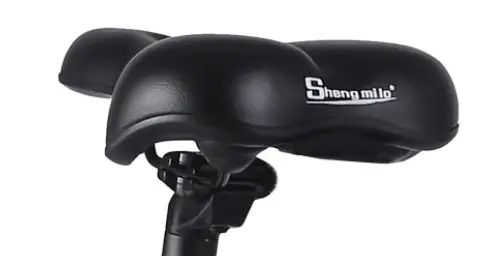 Who is the Shengmilo MX03 suitable for?
I'm not a massive fan of fat tire e-bikes, but if you're going to be riding in snow, sand or any other difficult terrain, then the oversized tires will provide some benefit. Bear in mind that the rear hub motor isn't going to be any good for getting you up steep, technical off-road climbs but will be more than enough for long, rolling gravel rides.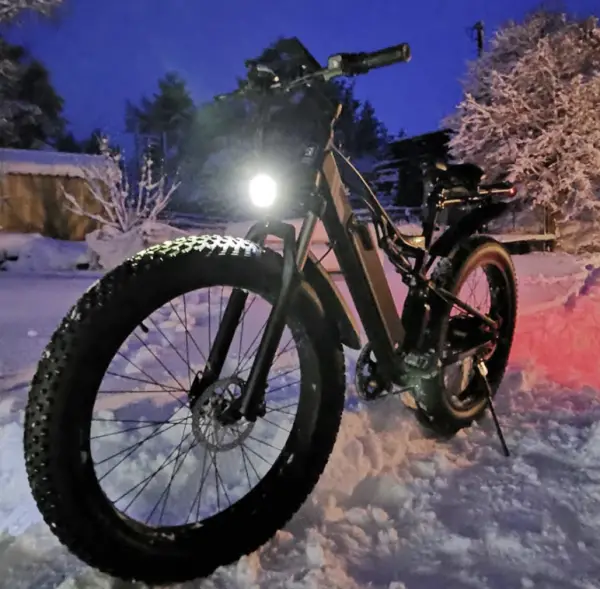 Conclusion
On paper, the Shengmilo MX03 looks like great value for money. But, the jury's out until I can get my hands on one for a full review. When you compare it to similar fat tire e-bikes like the Cyrusher XF800 it looks favorable – it's a bit cheaper, has a more powerful battery and has a 1000w motor.
As with all e-bikes of this kind, it's very heavy. The quoted weight of 32kg sounds about right. It isn't the kind of electric bike you'd want to be pedalling without the assist.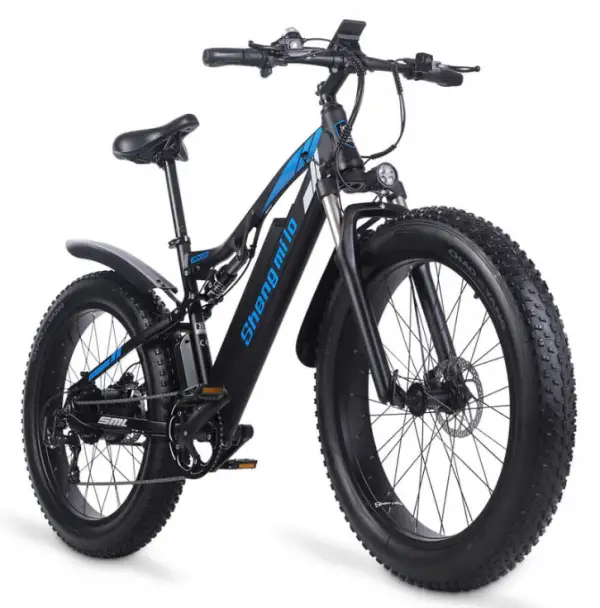 Another thing to consider is the legal implications. I some areas of the UK and EU, police are clamping down on illegal e-bikes. If you choose to ride something like this on the road, you should keep your speed down so you don't attract unwanted attention.
If you are after an electric fat bike, the Shengmilo MX03 is definitely worth considering. It has a decent spec for the price and a good-sized battery. Check out my article featuring 11 of the best electric fat bikes in 2023.