Amongst the overwhelming array of e-bikes currently available, I had yet to find a proper drop handlebar touring electric bikes. That is until I laid eyes on the new Bergamont E-Grandurance RD Expert. When I first saw it, I immediately thought 'This is the bike I have been looking for!'. In this review, I'll be taking a closer look at this great all-rounder and contender for the best electric touring bike.
Summary
Bergamont Bikes were originally founded in Hamburg, Germany in 1993. In recent years BMC had a large share in the company and now Scott Sports SA (formerly Scott USA).
I have always had a soft spot for their bikes and have always been impressed with the quality and finish. Bergamont has been producing e-bikes for a few years now, and some of their latest 2020 models look excellent.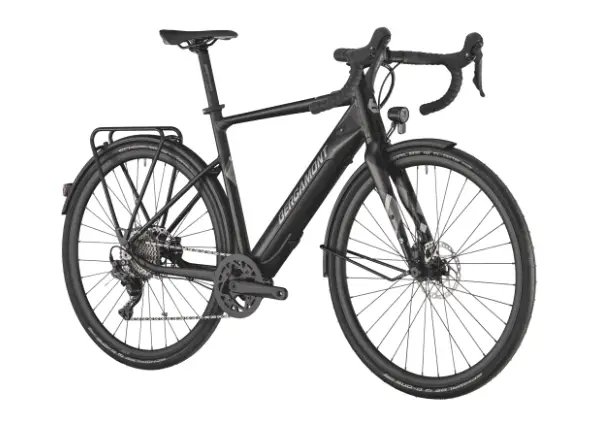 The one bike in their new line-up that stood out for me, was their new E-Grandurance RD Expert. 
I love the idea of electric road bikes, and having ridden a few different models, I only think it's a matter of time before I buy one.
I have always loved road bikes, versatile road bikes, the kind of bike that is equally happy on smooth tarmac, canal towpaths to moorland gravel tracks.
That's why my bike is a 1989 Dawes Galaxy, that has been upgraded with some modern components. I paid £50 for it in 2018, and at the time of writing, I've covered about 5000 miles on it.
It's quite a weighty beast, and the extra weight is especially noticeable when I've had some 100-mile-plus days in the saddle, with panniers filled with extra water, snack food, tool kit and spare inner tubes etc.
I have always thought, wouldn't it be great to have a touring bike, that had a lightweight integrated electric assist system, that could just give me a little nudge now and then?
Wouldn't it be even better, if I could remove that e-bike drive system and just use it as a regular bike as and when I wanted?
The Bergamont E-Grandurance ticks all the right boxes. It has Shimano's excellent new GRX groupset – which is specifically made for gravel/adventure bikes. It uses the innovative Fazua Evation modular e-bike drive system, which is not only lightweight but can be removed in seconds if required.
It also has mudguards, a pannier rack and even lights. On top of all that, it only weighs a couple of kilos more than my old Dawes Galaxy. If the Fazua drive system is removed it makes the bike a whole 1.5kg lighter than my Galaxy!
Let's take a closer look at the specification.
Electric Components
Electric road bikes are a fairly new addition to the e-bike world. Giant was the first major manufacturer to produce an e-road bike. More recently all the major manufacturers from Ribble to Pinarello have released road bikes with e-assist.
The ideal electric system for a road bike should be discreet, lightweight and not impact the feel of the bike too much (when ridden with the e-assist off).
Fazua Evation Drive System
The Fazua Evation e-bike system was designed specifically with the above in mind. Although it wasn't designed exclusively for road bikes, the designers wanted a system that would bridge the gap between small hub motors like the X35 ebikemotion hub motor system found on bikes like the Orbea Gain, and the heavier mid-drive motors like the Bosch CX or Yamaha Sync drive (as used by Giant on the Road E+).
The total weight of the Fazua Evation system is just 4.6kg including the battery. With the battery and motor drive system removed, the weight of the bike can be reduced by 3.6kg – the gearbox of the Fazua system is located in the bottom bracket and cannot be removed (this weighs around 1kg).
Of course, with a system this light, certain compromises needed to be made. The main ones are battery capacity and power output.
Having ridden Bosch, X35 ebikemotion and Yamaha Sync drive-powered e-bikes. I can say that the Fazua on maximum power feels more like the Bosch in 'tour' mode.
It lacks the grunt of the Bosch motor, but it feels a bit more powerful than the x35 hub motor system. I would say that, if you are still looking to get a good workout and want a bit of help now and again, then the Fazua motor is excellent.
If, on the other hand, you have health issues that considerably impede your ability to pedal hard, you would be much better off with a Bosch motor.
I have read quite a few reviews from people disappointed with the power of the Fazua motor. I think it works great. But I cycle between 50-100 miles a week on a regular bike, so my perception of what is good assistance is going to be different to someone who has just started cycling again after an illness or injury.
Battery
The battery on the Fazua system has a measly 250Wh (watt hours) total energy capacity. This is comparable to the X35 ebikemotion system. There are now Bosch-powered e-bikes available with 625Wh batteries (for a similar price).
Fazua claims an assisted range of around 50km (34 miles) which seems about right. But assuming you are a regular cyclist who is doing a 100-mile ride, you may only want to use the assist to take the sting out of the occasional steep hill, so this should be enough.
If you are using your bike for a 40 miles a day round commute, it is unlikely you will have the assist on constantly, so again, this battery should do the job.
You can purchase a spare if required for around £370, which will effectively double the range.
Bike Components
When deciding on what type of electric road bike to buy, having quality components is an important factor. In the case of the Bergamont E-Grandurance RD Expert, they have gone for the very latest Shimano components.
Shimano GRX Groupset
The Shimano's GRX groupset is their first 11-speed groupset designed specifically for the rigours of adventure/gravel bikes. Everything from the shifters through to the long-cage rear derailleur has been designed to be robust enough to deal with off-road riding.
The 1 x 11 set-up has a 42t front chainring and an 11-speed 11-42 rear cassette with the excellent GRX RD-RX812 Shadow rear derailleur. This is all finished off with a tough KMC e11S e-bike-specific chain.
Brakes
The E-Grandurance uses Shimano GRX BR-RX400 flat-mount hydraulic brake callipers with 160mm rotors. Again, these are designed to cope with the more extreme braking conditions found when riding on rough unpaved surfaces.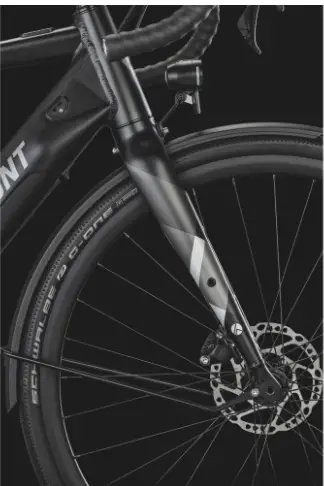 Wheels and Tyres
The rims are BGM allroad 28h discs, with BGM centre-lock disc hubs, with thru-axles front and rear. Tyres are the excellent Schwalbe G-One Allround, folding, Raceguard, 35-622 with Schwalbe SV17A Light inner tubes.
Accessories
The Bergamont E-Grandurance isn't short of extras. For an 'out-of-the-box' ready-to-ride touring bike, it has everything you need to get started.  The front lights are Busch and Muller IQ-XS, 70 Lux, LED, and the Rear light is a Herrmans H-Trace Mini.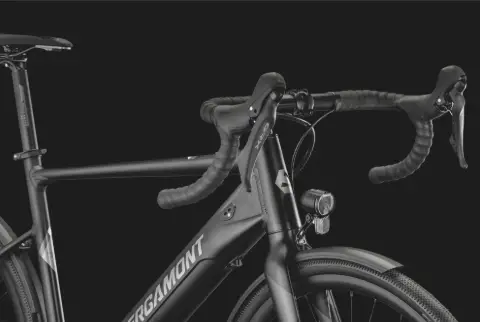 The front and rear mudguards and pannier racks are excellent quality Racktime Wingee items.
Finishing Kit
This is where parent company Scott's influence becomes apparent with a host of Syncross branded items:
Handlebars are Syncros Creston 2.0, flare: 10°
Stem is a Syncros RR2.5, +/- 6°
Seatpost Syncros RR2.5
Saddle Syncros FL2.5
All good quality, and well-made kit.
Frame
The frame uses super lite AL-6061 tubing and is specially designed to house the integrated Fazua battery and motor drive system. The frame geometry is aimed at the rider who doesn't intend to spend all their time on smooth tarmac roads.
Who is the Bergamont E-Grandurance RD Expert for?
The E-Grandurance is aimed at lovers of road bikes who want a versatile e-bike, that can be used as a daily commuter in all weather, and also used for touring, exploring and general fun.
I would say it is definitely a bike for enthusiasts and it will probably have quite a narrow appeal in a lot of respects. But as far as I can see, there is not one other electric road bike, that has all the kit you would normally see on a traditional touring bike.
It's also going to appeal to riders who want a dual-purpose bike. Having the ability to just remove the motor and battery in a flash is just excellent, that is why I'm so enthusiastic about this bike. It is a regular bike and an e-bike in one excellent package.
Conclusion
I've seen the bike, I have checked out the specs. From my perspective, I cannot think of an e-bike better suited to someone like myself. I still want to ride under my own steam, and I will continue to do so for as long as my body will allow.
But to have the option of a little help once in a while is just so tempting.  To have it so neatly wrapped up in such a gorgeous-looking bike, with that GRX groupset, and all the other accessories is a major plus point for me.
This bike weighs 17.5kg with the motor fitted, which is about 2.5kg heavier than my old Dawes Galaxy.  If the motor is removed the weight is down to 13.9kg – still very heavy by road bike standards, but for someone like me who just likes to plod along without a care in the world, the extra weight is not a problem.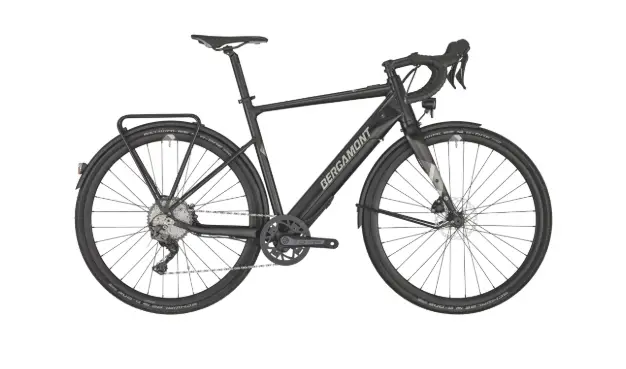 I have ridden loads of e-bikes from the Ribble SLe, Orbea Gain and the Giant Road E+, and they are all great bikes. The Ribble comes in at under 12kg with the motor fitted, but it is a road bike, even their CGR ALe gravel bike doesn't have the kit this bike has.
As far as the power is concerned. I have ridden a few Fazua-powered e-bikes, and I like the way it assists. It is so subtle and smooth. Yes, it doesn't have the sheer power of a Bosch motor in 'turbo' mode, but for me, the Fazua is the ultimate in enhanced cycling, it just takes the effort you put in and amplifies it.
The Perfect Touring Electric Bike?
I think the Bergamont E-Grandurance RD Expert would make an excellent electric touring bike. Purchasing a second battery is costly, but it will ensure that you could do day after day of 100 miles plus riding without too much effort.
I have ridden heavy e-bikes (22-25kg) for prolonged periods without the motor switched on and you do notice the extra weight, but I think although 17.5kg is heavy, it's not over the top if you are just cruising on the flat.
As I have said before, this isn't going to appeal to everyone, but for practicality and versatility, it's going to be hard to beat. I have found my perfect e-bike, and I am starting to save for it now – role in spring 2020!