The Eleglide electric bike range, features three electric mountain bike-style bikes including a folding version. These e-bikes are aimed at the budget-conscious buyer and offer excellent value for money. In this preview, I will be taking a quick look at all three models. I have also included links to full review articles where relevant.
This article has been updated to include the latest discounts for the Eleglide M1 and M1 Plus electric bikes.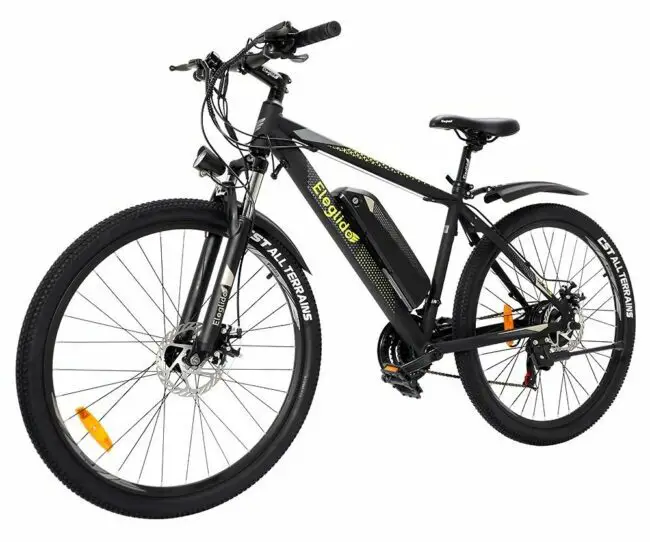 Summary
The Eleglide range includes something for everyone. In this article, I've focused on three of their most popular models. Since this article was first published. The Eleglide range has increased to include hybrid/trekking and fat tyre e-bikes.

Eleglide M1 and M1 Plus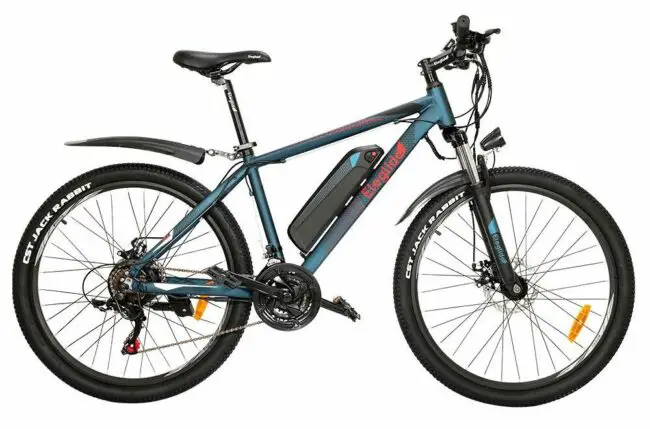 The Eleglide M1 and M1 Plus models are virtually identical apart from different battery energy capacities. Both e-bikes are very competitively priced at €599.99 and €749.99 respectively. Initially, the Eleglide is only available for shipping in EU countries but there will be UK stock coming very soon.
At a glance, all the models look like extremely good value for money. You're not going to get anything fancy at this price but the Eleglide M1 and M1 Plus have everything you'd expect on a budget e-bike and more.
Buy the Eleglide M1 Electric Bike  
£619.99 after coupon code: NNNM1PUK (UK only)
€719.99 after coupon code: NNNM1PEU (EU only)
Electric components
Both models use a 36v 250w geared hub motor with a claimed torque of 45Nm. These types of electric bike motors are usually very reliable and can be easy enough to fix if they do ever go wrong out of warranty.  As there's no visible external motor controller, I would say it's probably integrated into the battery mounting plate (I will confirm this when I review one).
There is no throttle fitted as standard to comply with EU and UK e-bike laws but one is supplied with the bike – it's up to you whether you fit this or not, but be aware of the potential legal implications beforehand.
Pedal assist is done through a standard cadence pedal sensor – these are generally very reliable plus they're cheap and easy to replace if they ever go wrong.
Battery
The Eglide M1 has a 36v 7.5Ah battery and the M1 Plus has a 36v 12.5Ah battery. I would be inclined to go for the more powerful battery as this will give the rider a higher potential range. The battery looks like a standard Hailong case type, which is very common and easy to replace or upgrade in future. You can usually buy these batteries off eBay or Amazon for around £150-£200.
The range figures quoted in the specification table below are a rough guide and probably a bit optimistic for the average rider. In my experience a 36v 7.5Ah battery usually gives a range of around 20-30 miles with a 12.5Ah battery around 35-40 miles. This will be very dependent on rider weight and the amount of assistance used. I reckon you could probably squeeze 50 or 60 miles out of the 12.5Ah version but you'd need to be very frugal with the e-assist.
Bike components
A standard steel triple chainset with 42/34/24 gearing and 7-speed 14-28 freewheel will give most riders all the gears they need. Changing gear is done through Shimano 3 x 7 trigger shifters although I'm unfamiliar with the brand of front and rear derailleur. I'll be able to report on the shifting quality once I do a full review.
Other features are front coil spring suspension which will be fine for light off-road riding and canal towpaths. There's a front headlight, kickstand and mudguards.
The brakes are simple mechanical disc brakes which are easy to adjust and work on. They won't have the stopping power of hydraulics but will be adequate for day-to-day commuting or leisure riding.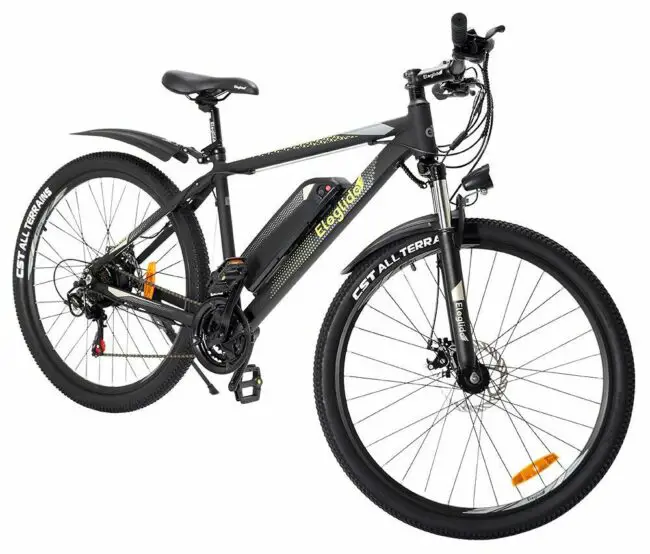 Wheels are 26″ for the M1 and 27.5″ for the M1 Plus. Both bikes use CST all-terrain tyres which should provide adequate grip for riding on and off-road.
Eleglide F1 Folding e-MTB
The Eleglide F1 is a full-size folding electric bike that can be ridden on unpaved surfaces. The F1 uses the same 250w rear hub motor as the other models but with a 36v 10.4Ah removable internal battery.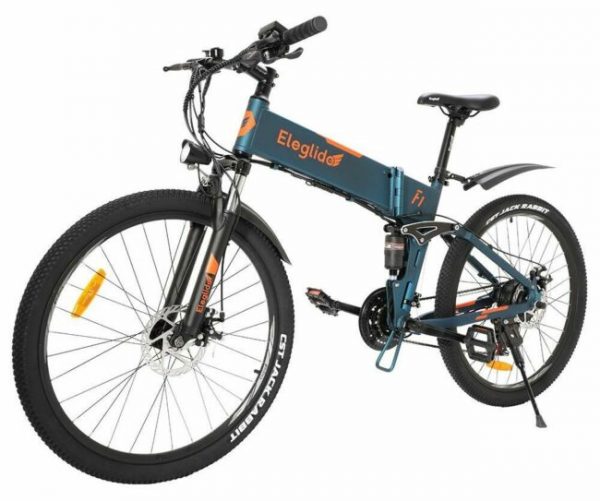 Most of the components are shared with the M1 and M1 Plus but with the addition of a rear shock absorber. Priced at €699.99 the F1 would make an affordable option for the daily commuter or leisure rider who doesn't want the hassle of fitting an e-bike-specific car rack.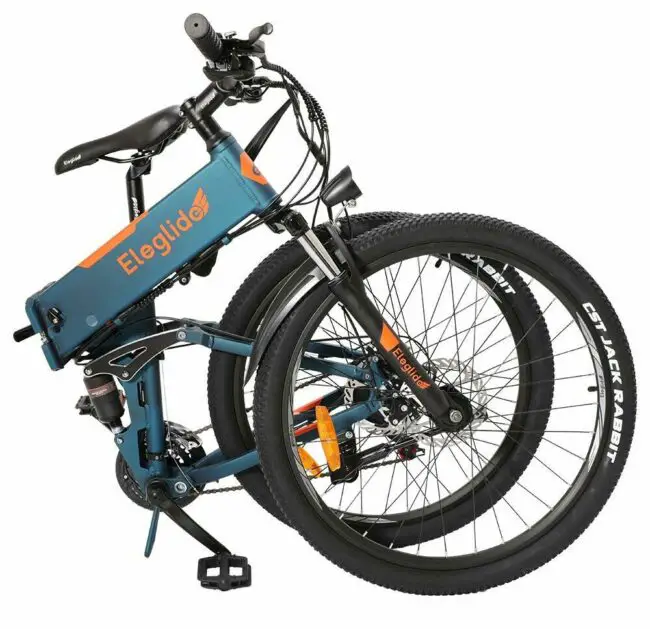 Although a full-size folding electric bike is going to be heavier than a regular folding e-bike, it has the benefits of larger 26″ wheels which will roll better on rough ground and poor road surfaces.
Specifications
Conclusion
Some people are critical of budget Chinese e-bikes and I think it's unfair to tar all of these cheap electric bikes with the same brush. In my experience these bikes do what they're supposed to and that is provide an affordable electric bike option for buyers on a tight budget. Let's not forget that most 'high-end' branded electric bikes often start near £2000 and with the Eleglide range starting at around £600 it makes e-bikes accessible to those with limited funds.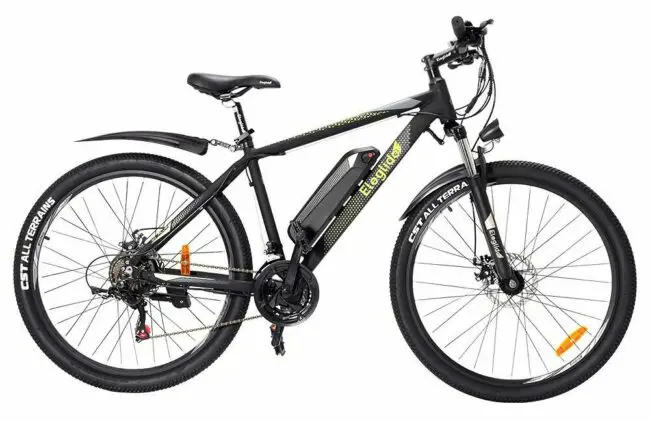 On paper, the Eleglide bikes look decent enough. The frames are made from aluminium and the electric components used are generally very reliable. Even if you did have problems after the warranty ended, the electric components would be easy to source and replace.
I think if you just want a cheap run-around and you're not going to be tackling any real rough off-road riding, then the Eleglide electric bikes will do the job.
Going by my personal experience, Geekbuying.com offer decent after-sales support if there are any technical issues. They now also have fulfilment warehouses in the UK and Europe so the returns process should be fairly straightforward.