The new Rattan Quercus is a utility e-bike with a dual battery option and a big weight capacity. Aimed squarely at the utility/cargo market, the Quercus offers some good features for the price. In this article, I'll look at the specifications to see how it fits into this increasingly competitive sector.  
Key features
Torque-sensing pedal assist
750w rear hub motor
48v 20Ah battery – dual battery option available
Hydraulic disc brakes
30 mph top speed
About Rattan
Rattan is a well-established US-based brand with over ten years of experience in the electric bike sphere. The Quercus is the latest addition to their growing range of fat tire e-bikes.  
Electric components
The Rattan Quercus is powered by a high-torque Shengyi 750W geared rear hub motor, which can produce a peak power of 1200W. This motor should allow the Quercus to achieve its claimed top speed of 30mph (on the flat) and make it good for steeper hills.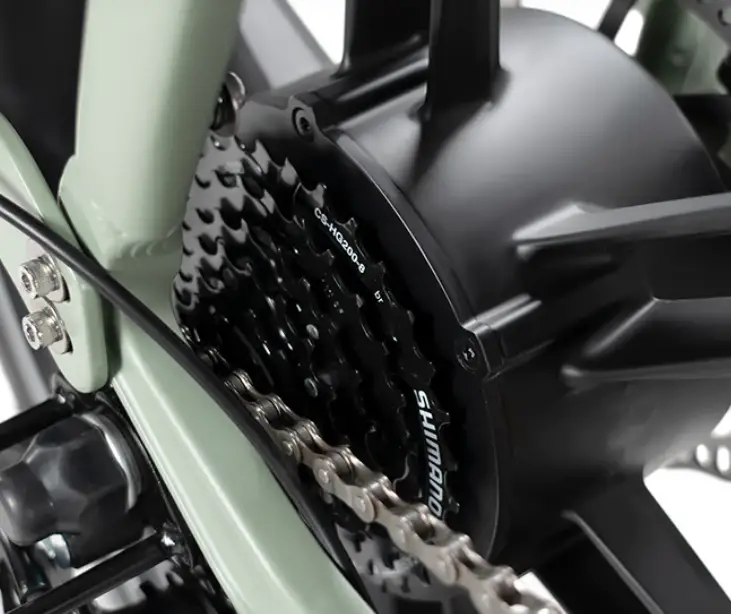 The electric can be activated either by throttle or pedal assist. The assist uses a torque sensor, so the motor adjusts its power output based on the rider's pedaling force. This provides a more natural and responsive pedal assist.
For power, the Rattan uses a 48V 20AH Samsung Cell Battery, with a dual battery option available. This battery size is now the benchmark on this type of e-bike and should give a reasonable range between recharges. The claimed range for one battery is 80 miles, which is optimistic for everyday usage. 50 miles seems more realistic, and over 100 miles may be possible with two batteries. 
The Rattan's color LCD screen looks clear and easy to read. It gives riders essential information about their journey, such as speed, distance, and battery life. There's also a USB charging port to charge other devices on the go.
Bike components
There is a standard 8-speed shifter/derailleur combo for gearing with a wide-range cassette to help with steeper hills. Upfront, there is a single chainring.
The Rattan Quercus is a heavy e-bike, so braking is an important consideration. Thankfully, they've gone the route of hydraulic disc brakes with 180mm rotors, which should be more than adequate.  
They've gone for a hydraulic suspension fork up front, with a preload and lock-out function for increased comfort. I personally feel that suspension forks are unnecessary on fat tire e-bikes, but it seems to be the trend among most manufacturers. 
The 20" mag wheels look durable, and 20" x 4" Kenda tires will help the Quercus in more testing conditions, particularly if your regular riding route takes you off the beaten track. 
Beyond its core components, the Quercus includes a range of accessories to enhance the riding experience. It has ergonomic leather grips, front and rear fenders, lights, a kickstand and a tough-looking, integrated cargo rack.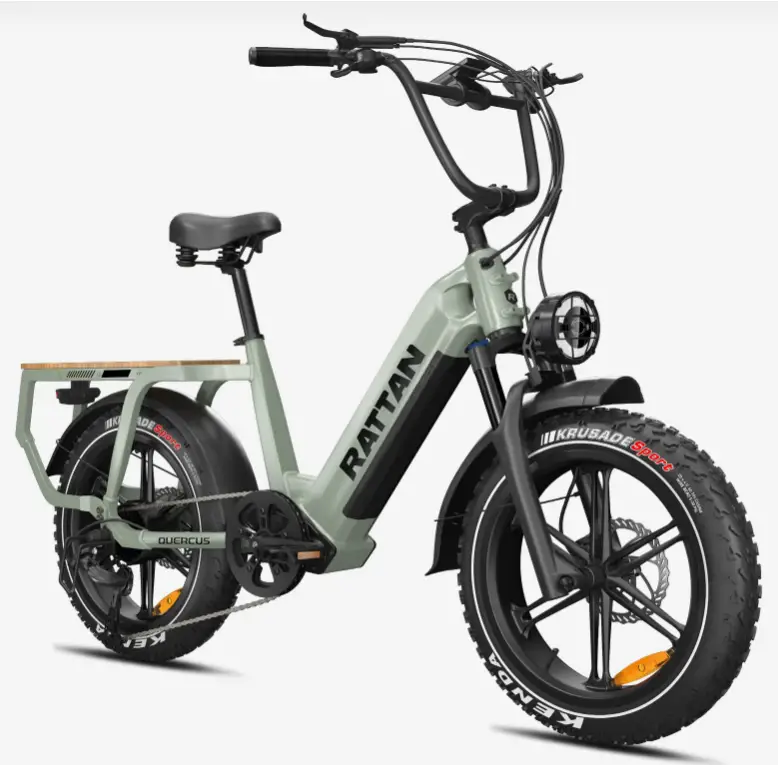 Sizing and weight
As with most e-bikes of this kind, the sizing does seem very broad. In my experience, riders on opposite ends of the sizing spectrum may struggle to ride comfortably without making additional modifications like longer/shorter seat posts. If riding just using the throttle, this won't be too much of an issue, but if you like to pedal, I would check the measurements to see if you're a good fit for this bike.
Regarding weight capacity, the Rattan Quercus is well-catered for. With a total capacity of 450 lbs, you could easily carry a smaller passenger if required. It also makes the Quercus a good e-bike for heavier riders.
I couldn't find any info on the weight of the Quercus, but having tested similar e-bikes, I would say the single battery option would be in the 70 – 80 lbs range. Add another battery, and you're going to be over 90 lbs. This could be problematic if you live upstairs. 
Who is the Rattan Quercus suitable for?
The Rattan Quercus is designed for a broad range of users. Its tough construction and ability to carry substantial weight make it ideal for transporting bulky items, groceries, or equipment. This makes the Quercus a good e-bike for deliveries, commuters and those who want an e-bike for running errands.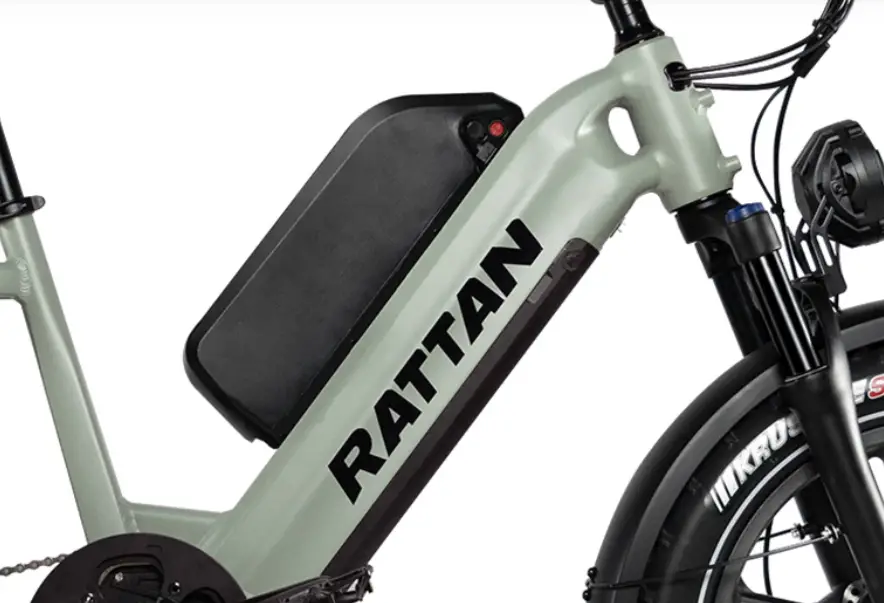 Pros and cons
Pros
Dual battery option
Torque-sensing pedal assist
Hydraulic brakes
450 lbs weight capacity
Cons
Conclusion
The Rattan Quercus is a welcome addition to the increasingly popular utility e-bike sector. It certainly has all the features you'd expect from such a bike. 
Priced at $1899 for the single battery option, the Quercus offers a good spec for the price and competes with the likes of Himiway, Cyrusher and other popular e-bike brands. If you're looking for a versatile electric bike that can be used daily, I'd say it's definitely one to consider.