NCM make high-quality, but affordable electric bikes. In this review, I will explain why I believe the NCM Moscow is one of the best budget electric mountain bikes.
About NCM Electric bikes
NCM Bikes, founded in 2014, have quickly become one of the largest electric bike brands in Europe, the parent company, Leon Cycle GmbH is a German company based in Hanover. Their e-bikes are designed in Germany and manufactured in China.
This great e-bike is now available in the US with a higher power output 500w motor and a top speed of 20mph. The NCM Moscow Plus has a high capacity 48v 16ah battery, Tektro hydraulic disc brakes and Suntour XCM forks with 100mm travel.  This model uses the more advanced C7 LCD with increased functionality and has 24-speed gears with Shimano Crankset and Acera 8-speed rear mech. There is also a throttle fitted.
I have ridden the EU spec version and that was fairly nippy, so I would imagine with double the power on tap this US version is an absolute joy to ride!
EU Specification
The centrepiece of this Electric bike is the DAS-Kit X15 geared rear hub motor: This durable 250W rear electric hub motor is known for its efficiency and high torque output. It offers a reduction ratio of 1:5 and a maximum torque of 55 Nm, which is excellent for such a small motor. This German-designed hub motor punches above its weight and it is refreshing to see such a high-quality unit on an affordable e-bike.
48v13ah Lithium battery pack with USB charging port for mobile devices: Usually, electric bike battery packs take up a considerable amount of space in the frame, but the Moscow's battery is integrated into the down tube of the bike, keeping the weight low and central, which helps to improve stability. The claimed maximum range of 75 miles seems a little optimistic, but possible if the pedal assist is used wisely. The total battery energy capacity is 624wh (watt hours), so if you were consuming 20wh per mile, your range would be 31 miles. My friend owns one of these bikes and gets an average range of around 40-50 miles.
This is a rugged bike built for the road less travelled: This is an excellent bike for weekend adventures on trails and gravel tracks. The Suntour XCT front forks have 100mm of travel, which is more than adequate for light off-road riding, and the excellent Schwalbe Smart Sam all-terrain tyres provide grip where it's needed. The gel saddle is comfortable enough, and the Velo ergonomic handlebar grips not only look great but feel great too!  Gearing is the dependable Shimano Altus 21-speed, and all the gears are indexed perfectly as expected.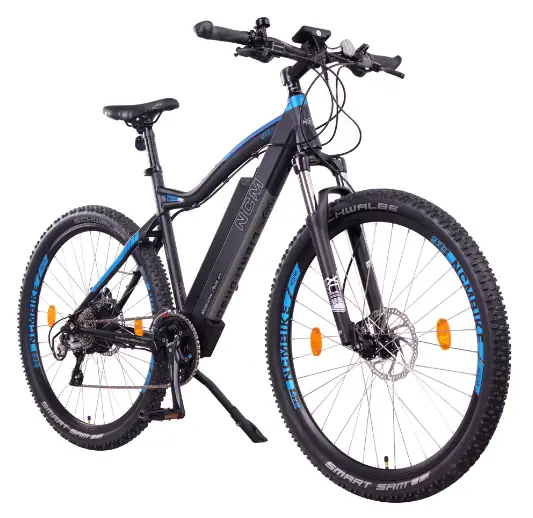 Multi-function LCD: The Das-Kit LCD gives you all the information you would expect, including journey time and mileage. It also has 6 power levels of pedal assist, so you can fine-tune the power output to suit your needs.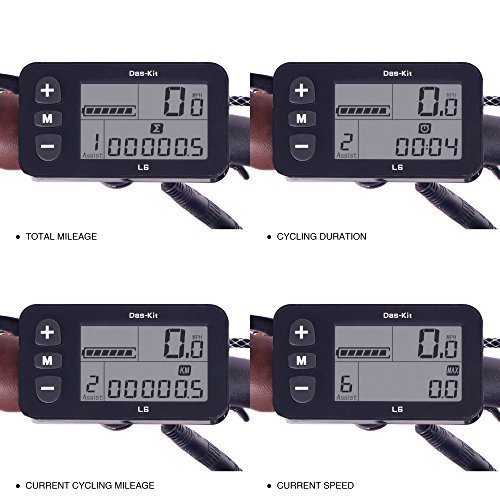 Excellent build quality: One thing that has always impressed me with NCM Electric bikes is the consistency of the build quality. The NCM Moscow is no exception. It looks great, but there is no compromise on functionality and safety.  The Tektro mechanical disc brakes with 160mm rotors provide predictable braking and the brake levers incorporate motor cut-off switches to ensure safe riding.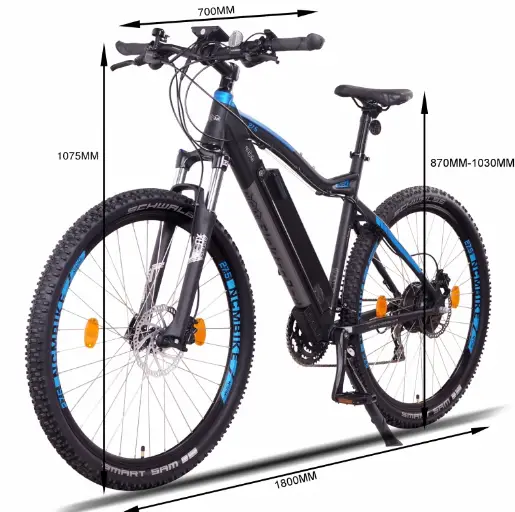 Summary
The NCM Moscow electric bike offers exceptional value for money. I have tested NCM's other bikes and this one is no exception. They all offer a lot for the price. The specification is excellent and it is good to see a 48v battery fitted to a 250w bike. This battery is the same capacity as the Milano I reviewed previously and a realistic range of between 30-45 miles, or 31 miles using the 20wh per mile calculation, should be expected. The claimed range of 75 miles may be a little optimistic for everyday use – but it depends on how much you use the electric assist.
The Tektro Mechanical disc brakes provide adequate and predictable stopping power, while the Schwalbe Smart Sam tyres will provide sure-footed grip on a variety of surfaces, as well as a reasonable amount of puncture protection.
It is good to see an integrated battery pack on an e-bike of this price, it does finish the bike off nicely.
As far as electric mountain bikes go, the NCM Moscow is excellent. Not only is it well-made, but it has a decent battery and an excellent motor.
The Ride
I serviced one of these for a customer last Summer and had to take it for a short test ride.  I was impressed with the way the small motor effortlessly handled the steep Cornish hills. The beefy 29er tyres handled the potholes and bumps of the back lanes with ease.
I had previously ridden the Milano model and there are a lot of obvious similarities. The Milano is made with the daily commuter in mind, whereas the Moscow is geared more toward the recreational rider, who will be venturing off-road more often. If I had to choose between the two, I would go for the Moscow, simply because it has that 'go anywhere' feel, and if you decided to use it as an everyday commuter bike, there are provisions to fit mudguards and a rack.
Conclusion
As with all the other NCM bikes I have reviewed, I rate this bike. It has to be the best-value electric mountain bike on the market at the moment.
The great thing about this bike is that the build quality is excellent. It feels very rugged and durable, although I would err on the side of caution when taking it off the beaten track. It is not a high-end mountain bike and isn't designed to take the rigours of extreme downhill riding. The suspension forks are fine for rough surfaces and a few small potholes, but nothing too harsh like rocks and logs.
If you are in the market for an affordable off-road e-bike, then this ticks all the right boxes.
If you are looking for a more commuter-orientated bike check out my review of the Milano. If your budget doesn't quite stretch to the NMC Moscow, It would be worth looking at the NCM Prague Electric Mountain Bike.