I have been wanting to do a review of the Orbea Gain D50 since I had a go on one earlier last year. I had already ridden a Giant Road-E which uses a Yamaha mid-drive and was eager to try a lightweight electric road bike that used a compact hub motor.
Orbea Gain D50 2020 model
Update 29/11/2019 – The new 2020 model Orbea Gain D50 has now been released. Having looked at the specification, it remains largely unchanged from 2019. It still looks gorgeous and has some nice new colour schemes.

Although some recent developments by Shimano, Yamaha and Bosch have made their excellent mid-drive motors easy to pedal once the power shuts down at 15mph, there is still a substantial weight penalty with mid-drives due to their relative complexity.
Enter ebikemotion with their excellent X35 M1 compact hub motor and integrated lithium battery. This small and lightweight motor fits neatly into the rear wheel and is barely noticeable. But the great thing is the motor and battery combined only add around 3.5kg to the total weight of the bike.
This electric bike system is so good in fact, that it is now used on a whole host of e-road bikes. From the Ribble Endurance SLe, through to the Bianchi Aria E-road and the Focus Paralane.
Battery
The 36v 250wh (watt hour) lithium battery pack is cleverly hidden in the frame. This battery uses the high energy density Panasonic NCR18650GA lithium cells – widely regarded as the best cells available at present.
Providing you only use the pedal assist when you need it, there is no reason why you can't get a range of 60-70 miles out of this battery. If, however, you rely on the assist being on all the time, I use the calculated 20wh per mile energy consumption – this would drastically reduce your battery range to less than 20 miles.
As far as I am aware, the Orbea Gain was the first e-road bike to use this excellent drive system, and since then many other prestigious bike manufacturers have followed suit.
The Ride
I managed to ride one of these in the Spring of 2018, not long after they had been released, and I have to admit, I was smitten.
The first thing I noticed, was that it felt like a normal road bike. There was no noticeable drag from the motor, and the bike felt nimble and sure-footed. The 700x28c tyres are an excellent choice, and make the bike more usable on rougher terrain, like canal paths etc.
The frame and forks are wide enough to accommodate tyres up to 40c, which would be perfect for touring or gravel track riding.
The pedal assist works flawlessly and provides a seamless boost of power when you need it. I am personally a little biased towards the Yamaha system found on the Giant Road-E. Mid-drive motors are more efficient and provide considerably more torque than hub motors, however, this would be more relevant in mountain bike applications when climbing very steep trails and not so much of an issue with a road bike.

My ride of this bike took me on a short 10-mile loop of my local area, with a couple of short, but steep climbs. The Gain handled these with ease and took the sting out of these hills. I was also impressed with the Shimano mechanical disc brakes, they certainly performed on par with the Avid BB-5s I had used on a previous road bike.
My only slight disappointment was the entry-level 2×8 Shimano Claris groupset, it would have been nice to at least have Tiagra or 105 at this price, but maybe that is expecting a bit too much!
I was really impressed with the ride quality, and as I have mentioned previously, it didn't feel like riding an e-bike (until I used the pedal assist).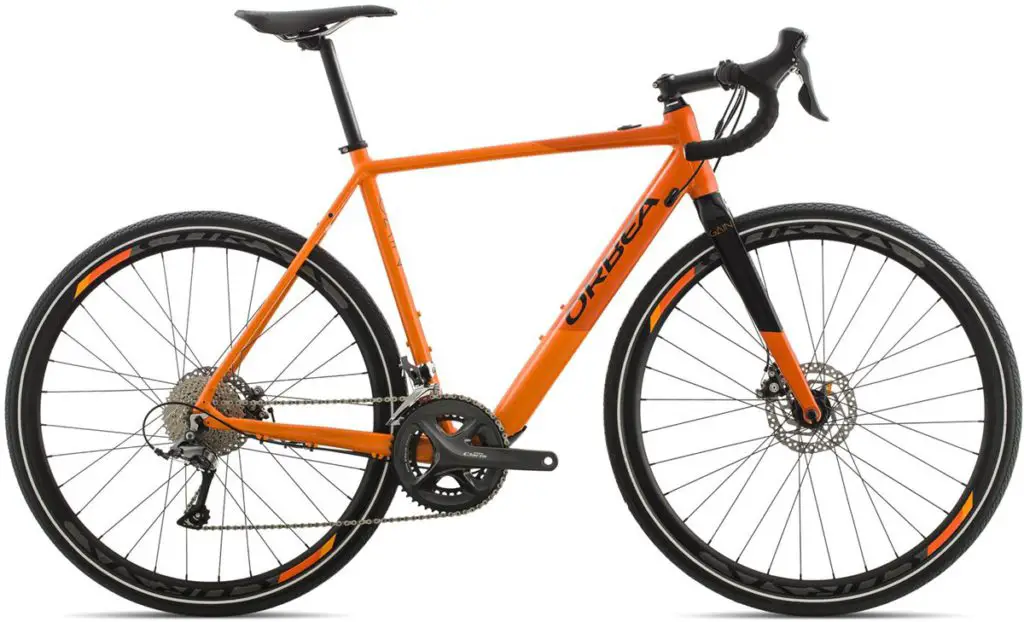 Conclusion
Overall, I was very impressed with the Orbea. An e-bike that doesn't look, weigh or handle like one! Having ridden the Giant Road-E and the Ribble Endurance SLe, my favourite would have to be the Ribble for an out-and-out road bike experience. The Giant looks and weighs more like an e-bike with its large lithium battery pack and Yamaha mid-drive motor dominating, but the way that motor makes the power is a revelation!
Taking everything above into account, both the Giant and Ribble are substantially more expensive. The Orbea D50 offers excellent value for money and doesn't have much in the way of competition at its price, making it the best electric road bike available for under £2000.
Full Specification Below:
6000 Series hydroformed aluminium alloy with rack and mudguard mounts
Carbon fork for a smoother ride
Shimano Claris 2×8 speed drivetrain with a wide range of 11-32 cassette
Shimano mechanical disc brakes for consistent all-weather stopping
700c wheels with 28mm tyres (clearance for up to 40mm)
Sizes: X Small, Small, Medium, Large, X Large
Colours: Anthracite, Grey/White/Red, Orange/Black
The Orbea Gain D50 is available with 0% APR finance
Drive Information:
Motor: Ebikemotion X35, rear hub drive, 40Nm
Battery: Ebikemotion 36v downtube integrated battery pack
User interface/remote: iWoc One top tube button & smartphone app
Connectivity: Bluetooth
The Gain was designed to enhance your ride, not dominate it. The Enough Power and Enough Energy concepts result in an exceptionally lightweight, sportive and rideable bike – a machine that heeds the call of the open road. Gain embraces your sweat and hard work and works in unison with your efforts to tick off the miles. System interfaces are modern, integrated and sleek. There are no bulky components to reduce the riding experience, distractions have been minimised so it's just you, Gain and the hours ahead.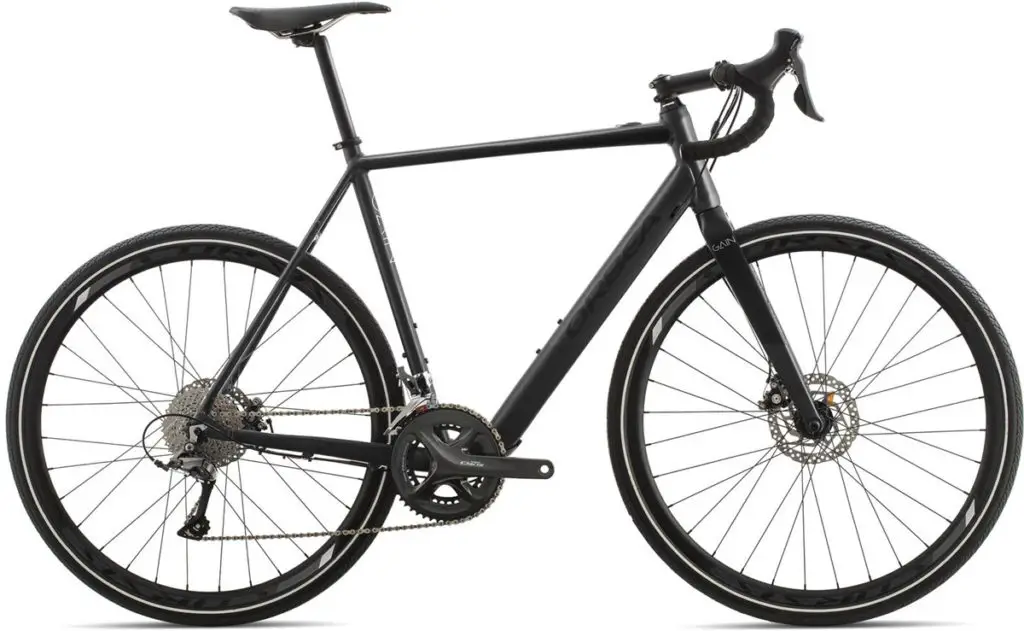 Mode Button – Save space on your handlebar for a GPS if you wish, or ride without clutter. Gain's control centre is an attractive and discreet button on the top tube. With the simple iWoc ONE interface, you can power the system on or off, check the motor assist level and view the remaining battery charge. Coloured LED lighting puts all the information you need right at your fingertips.
Internal Battery – The battery is usually one of the most noticeable components of an e-Bike system, so every step has been taken to find the lightest, smallest and most discreet unit. Gain's Enough Energy concept provides you with enough battery power, not more. It eliminates the need for a bulky, high-output battery that needs to be removed from the bike.
Drive System – The heart of the Gain, the rear hub motor is the key to Gain's Enough Power concept. The sophisticated drive system provides enough smooth and reliable assistance at levels designed to enhance your ride, not dominate it. And since the motor is at the hub, you'll experience drag-free pedalling when Gain is not providing a push
C.A.N Integration – Gain doesn't require a multitude of wires, ports or accessories. The CAN (Controller Area Network) bus port provides a single interface for charging, system diagnosis or attaching the external backup battery.
PAS Sensor – Gain's smooth and balanced assist requires an advanced sensor. Blending perfectly with our effort to create a sleek and discrete system, the cassette lockring holds 20 magnets that are detected by the integrated dropout sensor. The system monitors your pedalling input and adjusts power accordingly
App – A smartphone and smartwatch-compatible app enables deeper control of the iWoc system used by Gain. Ride tracking, activity and GPS route uploading and other functions are available from your mobile device, making Gain an even more valuable tool.
Versatile – The new carbon frame includes the same integration features other Orbea Carbon frames have, plus the complexity of also fully integrating the motor power cable and the P.A.S sensor.
Mavic – In order to bring the best quality built, we've teamed up with Mavic and brought their bestsellers into the Gain family; the Aksium Elite and Cosmic Carbon Wheels.
Tyre Clearance – The move to wider tyres is happening everywhere, with even road racers opting for the comfort and lower rolling resistance of 25c or 28c tyres. To make Gain even more versatile it is possible to mount most 40c tyres, either with clincher or tubeless.
Specification
| | |
| --- | --- |
| Frame: | Orbea Gain |
| Fork: | Speed 400mm Carbon Flat mount |
| Headset: | 1-1/8″ Semi-Integrated |
| Bars: | Orbea OC-II |
| Front Brake: | Shimano BR-RS305 Mechanical Disc |
| Rear Brake: | Shimano BR-RS305 Mechanical Disc |
| Front Mech: | Shimano Claris FD-R2000-F |
| Rear Mech: | Shimano Claris RD-R2000-GS |
| Shifters: | Shimano Claris ST-R2000 |
| Rims: | Ready GR |
| Front Tyre: | Hutchinson Fusion 5 All SeasonTLR 700×28 |
| Rear Tyre: | Hutchinson Fusion 5 All SeasonTLR 700×28 |
| Seat Post: | Orbea OC-I 27.2x350mm |
| Chain: | KMC X8 |
| Cassette: | Shimano HG50 11-32t 8-Speed |
| Battery (Wh): | 250 Wh |
| Motor: | Ebikemotion |
| User Interface: | Ebikemotion iWoc ONE |