If you're looking for a electric cargo bike, that's affordable, and has all-terrain capabilities, the Addmotor M-81 certainly ticks all the right boxes. In this review, we'll have a close look at the key features and specifications to see how it stacks up against the likes of the popular Rad Power Radwagon 4.
| | |
| --- | --- |
| Motor | 750-watt Brushless Rear Hub Motor |
| Battery | 48v 20Ah – Samsung Cells |
| Range | 105 Miles (Claimed) / 40 Miles (Realistic) |
| Gearing | 7-Speed Shimano |
| Suspension | Front Suspension Fork 100mm Travel |
| Brakes | Hydraulic Disc Brakes 180mm Rotors |
| Max Load | 350 lbs |
| Accessories | Front / Rear Lights, Indications, Mudguards, Cargo Rack, Kickstand |
| Price When Reviewed | $1799 |
Pros
Heavy load capacity
High-capacity battery
Hydraulic Brakes
Powerful motor with advanced controller
Great Value for Money
Cons
Only available in one frame size
Heavy
The Addmotor M-81 is a long-tail cargo e-bike, that rocks a powerful 750-watt motor and 960Wh lithium battery. Unlike most cargo e-bikes, the M-81 has all-terrain capabilities, thanks to large 20 x 4″ fat tires, and front suspension forks. The frame of the bike is made of lightweight and durable 6061 aluminum, with double-walled alloy rims and 12 gauge spokes. A step-through frame, gives the M-81 a broad appeal, making it suitable for riders of all ages and abilities. It's available in four striking color schemes: Army green, blue-black, pearl-white, and orange.
Who is the Addmotor M-81 Suitable For?
Anyone who is looking for an electric bike that can take the kids to school, shopping, commuting or just hanging out at the beach. It's also going to be great for weekend adventures – you can carry all the camping gear, food and other supplies for a weekend in the country.
Electric Components
Motor
Power is provided by a 750-watt geared rear hub motor. This motor has been designed for improved heat dissipation, reduced noise and increased torque output, making it suitable for the extra weight demands associated with a cargo e-bike. In addition, Addmotor has upgraded the motor controller to enhance reliability and efficiency. There are up to 7 levels of pedal assist to choose from, making it easy to fine-tune the electric assist to suit your needs.
The multi-function LCD shows all the active controls and features on-screen: Speed, battery remaining, trip function, PAS level, lights, and real-time power output. Plus, the screen has been designed to be anti-glare. All the e-bike controls are conveniently mounted next to the left and right handlebar grips.
Battery
The Addmotor M-81 is equipped with a 48v 20Ah battery using high-quality Samsung cells. Claimed range is up to 105 miles – this is on flat terrain in PAS level 1, and with a light rider. In reality, an e-bike with a 750w motor and 960Wh battery is going to have a real-world range of between 30 – 40 miles, maybe up to 60 miles with sensible use of power.
Bike Components
Gearing
Gearing is a 7-Speed Shimano Tourney rear derailleur with a 14-28 freewheel and 52t front chainring. This should give a decent spread of gears for climbing moderately steep hills. The 20″ wheels will mean lower gearing at the top end, so by the time you get to around 22 mph, your pedaling speed will be maxed-out. But, the motor will take you up to 28 mph on the throttle.
Brakes
The Addmotor M-81 uses hydraulic disc brakes with 180mm rotors. Hydraulic brakes are an important safety feature, especially when you're potentially carrying a heavy load. They offer much better control and bite, than mechanical brakes.
Front Suspension
Up front, there's an oil-sprung suspension fork with 100 mm of travel. This fork can be adjusted or fully locked out if required. A really useful feature if you find yourself off the beaten track.
Wheels and Tires
The 20-inch wheels are made with tough, double-walled alloy rims, and 12g spokes. The tires are Kenda Krusade 20″ x 4″ – these are suitable for riding on asphalt, and gravel, and are ideal for sand and snow when used at lower pressures.
Accessories
Accessories include front and rear lights, turn indications, chain guard, kickstand and mudguards. The gel saddle is designed for unisex comfort and has a built-in handle for pillion passengers to hold. There's also an adjustable handlebar stem, for finding optimal comfort.
Cargo Carrying Capacity
For cargo-carrying capacity, the Addmotor M-81 has a large, integrated pannier rack – this can be fitted with extra large pannier bags, cargo baskets or even child seats. The rack is compatible with Thule Nexxt Kids Seats and is spacious enough to carry groceries, sports equipment, camping supplies, or anything you can fit. To boost carrying capacity even further, an optional cargo basket can be fitted to the front of the M-81.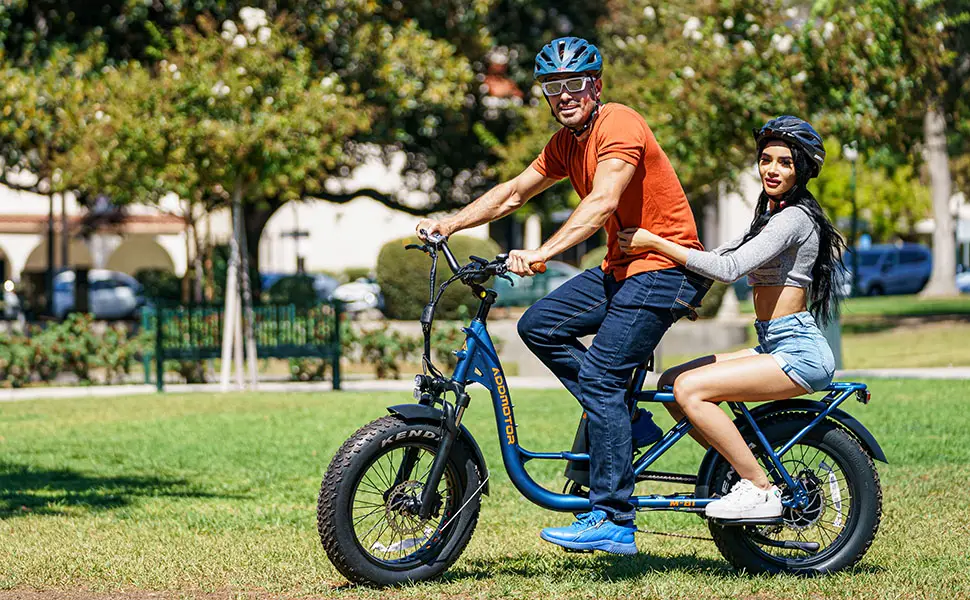 How Does the Addmotor M-81 compare with the Radwagon 4?
The Radwagon 4 by Rad Power is one of the best-selling cargo e-bikes in the US at the moment, but can the Addmotor M-81 knock it off its perch? There's no doubt the Radwagon 4 is a great cargo e-bike, but it does lack some of the features of the M-81 and comes in a little more expensive.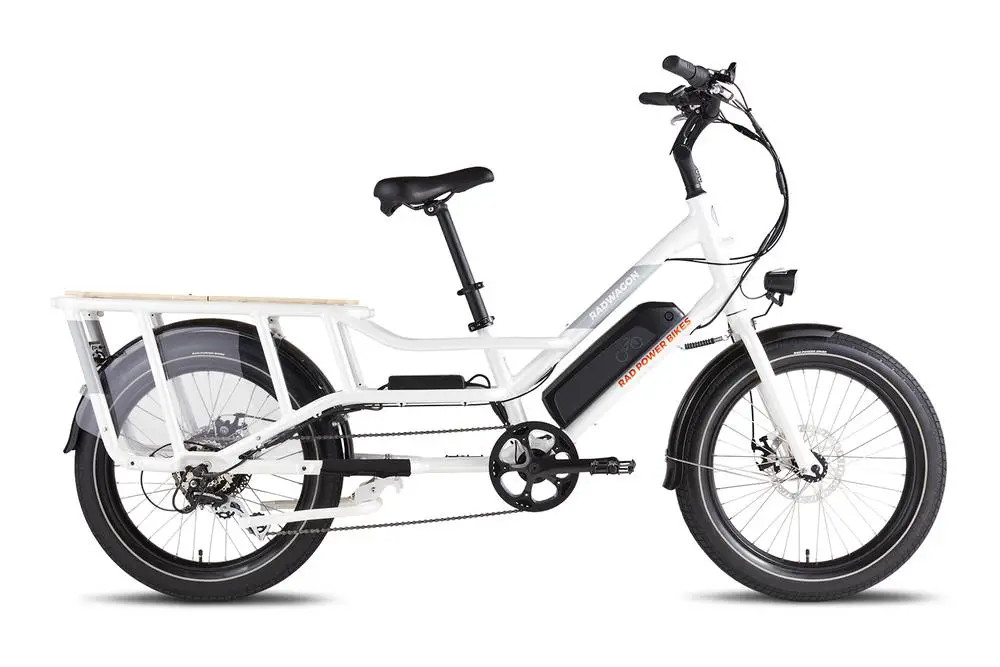 48v 14Ah vs 48v 20Ah battery – the Addmotor M-81 comes out on top here.
350 lbs carrying capacity – Both have the same capacity.
750w rear hub motor – Both also have the same power output.
20 x 4″ fat tires vs 22 x 3″ tires – The Radwagon tires will be more suitable for asphalt, whereas the 4-inch fat tires on the M-81 will be more suited to mixed-terrain.
Front suspension vs rigid fork – If you want the option to ride off-road, then suspension forks are the way to go. But, they do add extra weight. The Radwagon has a rigid fork and is better suited to asphalt and compacted gravel surfaces.
Hydraulic brakes vs Mechanical – the Addmotor M-81 wins in this department. I think having hydraulic brakes on a cargo e-bike is a must. The Radwagon 4 uses Tektro mechanical discs, which are a good quality brand, but they will lack the bite of the hydraulics.
Accessories – both brands offer a range of accessories for e-cargo bikes.
Is there a clear winner between the Addmotor M-81 and Radwagon 4? They are both really good cargo e-bikes for the price, and it depends on the intended use. I would say the M-81 is going to be better suited to off-road adventures – it has fat tires, suspension and hydraulic brakes. The Radwagon 4 has a lower battery capacity but will be slightly lighter in weight, have lower rolling resistance (from the tires), and be better suited to riding on smoother surfaces.
Visit Rad Power for more info on the Radwagon 4
Conclusion
The Addmotor M-81 is an impressive fat tire electric bike that offers great specifications for the price. It's well-built, looks great and has the added versatility of fat tires and front suspension. If I was looking for a sub-$2000 electric cargo bike, I would definitely be tempted by the M-81.
Relevant Links