Best known for its e-bike conversion kits, Yose Power has a good reputation for affordability and quality. In this article, we're going to be looking at the range of Yose Power electric bikes on offer. If I can get hold of a sample to test in future, I'll do a full review article.
Electric Mountain Bike 27.5″ Wheels 36v 13Ah Battery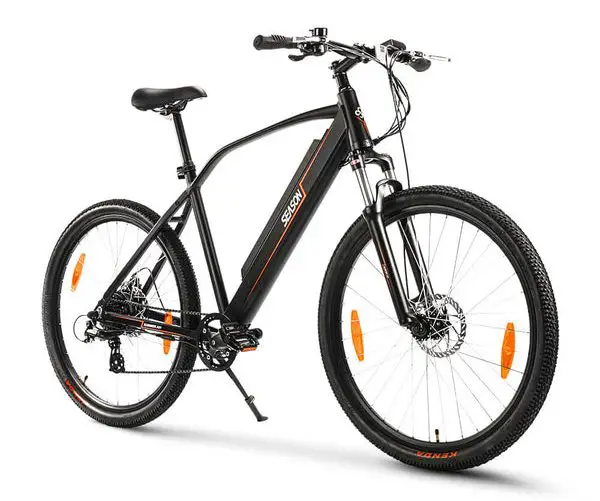 Yose Power now sells a range of affordable electric bikes direct from their website and looking at the specification, it looks like pretty good value for money. I've broken down the specification below and gone into more detail on the individual components used.
Check out the latest E-Bikes from Yose Power (Use Discount Code: BH2E24BXQH)
Motor
For starters, this e-bike complies with EU and UK e-bike laws and is limited to 25km/h maximum assisted speed with 250w continuous power. The motor used is a Shegyi geared hub motor – incidentally, one of America's top independent electric brands (Rad Power Bikes) uses Shengyi motors, so they must be fairly reliable. My personal experience with this motor is limited, although I've ridden a couple of e-bikes with the Shengyi, and didn't have any complaints about the performance, noise or smoothness.
Battery
The battery is a respectable 480Wh (36v 13Ah) which gives a (claimed) range of up to 70km. This would seem about right for a battery of this size, ridden by an average-weight rider, sensibly on fairly undulating terrain. It's a removable, semi-integrated design, which enhances the look of the bike. This battery uses their cells so I can't comment on longevity. If it's anything like the batteries they sell with their e-bike conversion kits, then it should last for anything up to 5 years (if looked after). The battery is warranted for 18 months.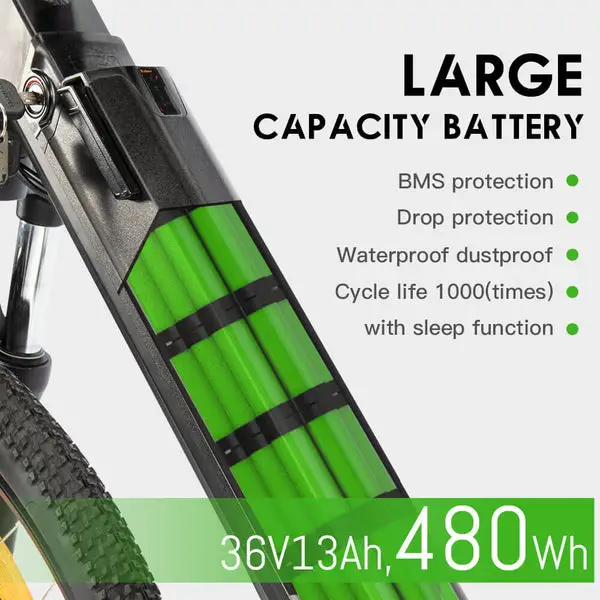 Display
The display used is an ATP500s which is quite a common display on e-bikes at this price point. It's a decent display which is generally reliable and offers all the information a rider needs – speed, battery, trip function, and assist level. There are 6 power modes: Off, Eco, City, Trek, Power, and Max.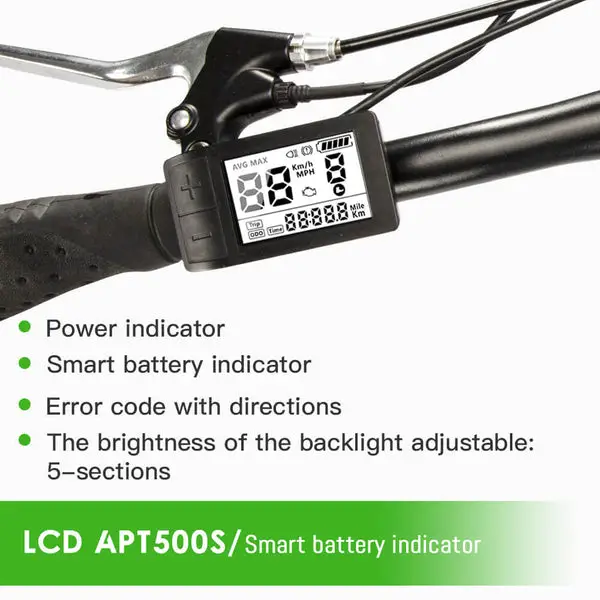 Bike components
Gearing is provided by a Shimano 7-speed derailleur and shifter – cheap, but decent quality and easy to get hold of if it ever needs replacing. Braking is by two mechanical disc brakes which should provide adequate braking for everyday riding.
Wheels are typical 27.5″ MTB rims with good quality Kenda 27.5″ x 1.95″ tyres – these should have a degree of puncture resistance and will be suitable for mixed-terrain riding.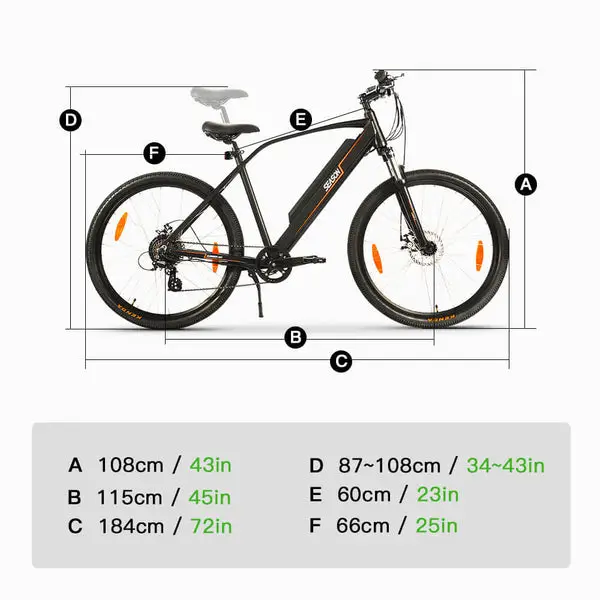 There's a basic coil-sprung front suspension fork, which will be just fine for the everyday rider, although they don't look like they'll take too much abuse off-road.
I like the frame design, it has a nice and relaxed geometry and should make for a comfortable riding position and decent handling.
Price and Warranty
Current pricing is €989, which is a fair price for an e-bike with this specification. One thing I did notice though is the warranty is much better than similarly priced e-bikes. Yose Power is offering 18 months on the motor and battery, with 2 years for the controller. The frame is guaranteed for 5 years and the other components are warrantied for 12 months.
Verdict
The Yose Power electric mountain bike looks like great value for money and it's got a decent warranty. I'm a big fan of this company and have been dealing with them since 2016. They've always been very helpful when problems have arisen, so I'd have no hesitation in recommending them. Hopefully, I can get ahold of one shortly for a full review.
Check out the latest E-Bikes from Yose Power (Use Discount Code: BH2E24BXQH)
---
Folding Electric Bike 20″ 250w 36v 13Ah
The second e-bike available from Yose Power is this folding electric bike with 20″ wheels and a 36v 13Ah battery. Most of the key components used are the same as above.
Summary
The folding electric bike from Yose Power uses the same Shengyi brushless, geared hub motor as the previous e-bike. It's powered by a 480Wh (36v 13Ah) battery which is mounted vertically to the rear of the seat tube. The claimed range is 70km which is not unreasonable given favourable riding conditions. I would say in a real-world scenario maybe 50km could be easily expected for day-to-day use. The display is also the same as ATP500s, which is clear to read and easy to use.
Bike components
Shimano 7-speed derailleur and shifter mean reliable gear shifting and minimal maintenance. Mechanical disc brakes will be ideal for the intended use of commuting and leisure riding.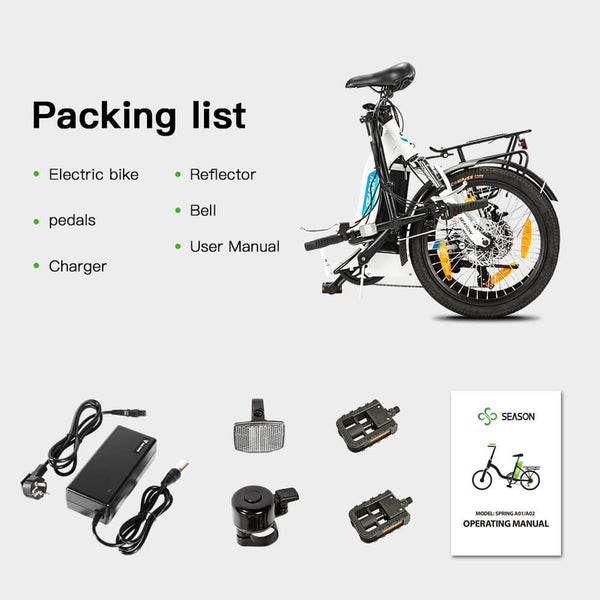 There are 20″ wheels with 1.95″ tyres and basic front suspension to soak up the bumps. Looking at the frame and folding design, it looks to be fairly straightforward and should be easily foldable within a minute.
As a commuter e-bike it has all the accessories you'd need including mudguards, pannier rack and lights.
Price and Warranty
This foldable electric bike is currently available for shipping within Germany for €889, which is a good price for a folding e-bike with a 480Wh battery. The warranty is as above with 18 months for the motor and battery, 5 years for the frame and 12 months for everything else.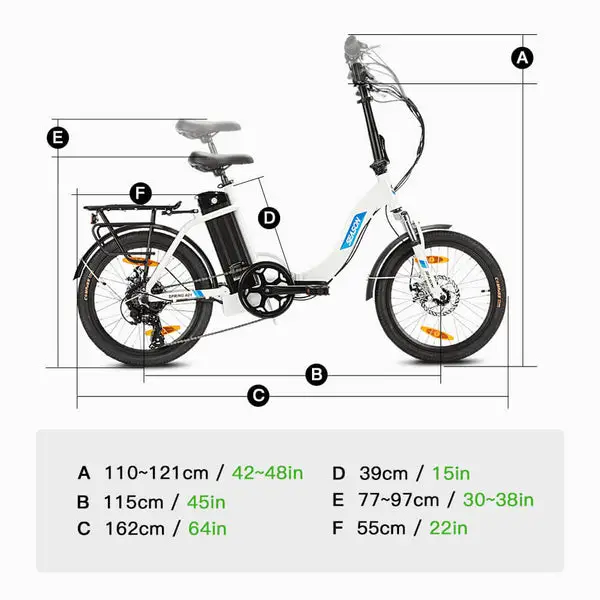 Verdict
The Yose Power folding electric bike will be a perfect option for someone looking for a budget commuter e-bike or just something easy to put in the back of the car to take away on the weekend. It uses a good-quality motor with a decent-sized battery. Based on my previous experiences with Yose Power, I'd have no problem recommending this folding e-bike.
Check out the latest E-Bikes from Yose Power (Use Discount Code: BH2E24BXQH)