Halfords have just launched a couple of new electric bikes to add to their popular Carrera range. The Carrera Impel is available in two options – the im-1 and im-2. In this preview article, I'll take a closer look at the specs to see if they bring anything new to the table.
Summary
Carrera electric bikes seem to polarise opinions within the e-bike world.  People tend to either love them or loathe them, plus there do seem to be some big questions raised regarding after-sales service.
From a personal perspective, I've test ridden most of their current (and older) range of electric bikes and I have always thought they offered reasonable value for money. I also know of quite a few satisfied owners who have many miles of riding under their belts.
It's been a couple of years since they released new models so I was quite interested when I saw the new Carrera Impel electric bikes on offer. There are two options – the im-1 and im-2.
Specifications
It looks like both of these new e-bikes will be using the Hyena 250w rear hub motor with a frame-integrated 367Wh battery. I was unfamiliar with this brand of motor but after a little research I found out they're a Taiwanese-based e-mobility company that seems to produce some good quality products.
Looking at the specification of this motor it doesn't look like anything special, but it does use 'tried and tested' technology that's been around for a few years.
Battery
The battery fitted to both models is a 36v 10.2Ah (367 watt-hours). It's removable and neatly integrated into the frame, giving the bike a very clean look. I would say that the claimed battery range of 50 miles is very optimistic for real-world use, and 25-35 miles would be more realistic.
Torque-sensing pedal assist
It's good to see they've used torque-sensing pedal assist on these new e-bikes. Although this is nothing new on the Carrera range, the Hyena system does use the latest sensing firmware and it claims this produces a very smooth and responsive pedal assist experience.
What's the difference between the two versions?
The Carrera Impel im-1 is the entry-level model and comes in at £1099. The specification is about as basic as you can get on an electric bike at this price, with a single-speed transmission, Tektro v-brakes and LED display. Claimed weight is 19.18kg which isn't too bad for an e-bike.
On paper, it looks okay, until you look at the competition – for example, the Pure Flux One (from Pure Electric) is the same price, has mechanical disc brakes, Gates carbon belt drive and is nearly 2kg lighter. Then there's the Pinnacle Mercury (from Evans) that costs around the same price but has hydraulic brakes and 9-speed Shimano Acera gearing.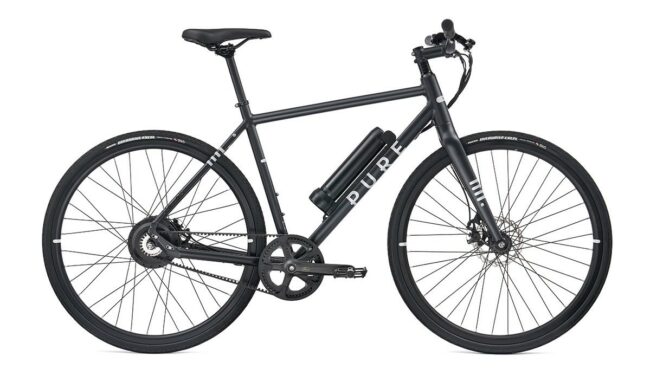 That said, I'm sure this will be a popular addition to the Carrera range. It does look quite nice and has a neatly integrated battery. Despite some occasional issues with after-sales support, Halfords is still very much a trusted high-street brand.
The Carrera Impel im-2 uses the same frame, motor and battery as the im-1 but has the addition of mechanical disc brakes, Shimano or Microshift 9-speed gearing and a multi-function LCD.
Conclusion
Looking at the specifications, I would say both these new Carrera models look okay for the price. I wouldn't say they are particularly good or bad value, just nothing out of the ordinary. When you start to look at alternatives, there do seem to be better e-bikes available for the price but I'll have to reserve final judgement until I get hold of one for a full review. Both the Carrera Impel im-1 and im-2 are bound to be good sellers – no other high street brand has the nationwide coverage of Halfords and they are still one of the most familiar names out there.
I do like the look and design of the bike – it has nice frame geometry and high-volume tyres, so it should be good to use on a multitude of different terrains.
As with all other Halfords e-bikes, there's a 2-year warranty on electric components and a lifetime warranty on the frame, which is pretty good considering the price.
If you are after a fairly cheap electric hybrid bike, I would say the Carrera Impel is worth a look – plus, if you have a store local to you, it's easy enough to go and see one in the flesh.
Check out the new Carrera Impel electric bike range at Halfords
Thanks for reading and if you beat me to it and buy one of these, please feel free to share your review of the Carrera Impel e-bike in the comments section below.