ebikechoices is supported by its audience. When you purchase through links on our site, we may earn a commission. Learn more
The Bosch electric bike motor is widely regarded as one of the best in the industry. From its inception way back in 2010 it has evolved into one of the most reliable and cutting edge ebike systems currently available.
Halfords in-house Carrera brand of electric bikes have been around for a few years now, and the Carrera Crossfuse is the first ebike in the range to be fitted with the excellent Bosch Active Line Plus motor.  The motor is great, but how does the rest of the bike stand up to closer scrutiny? Read my review for more information.
Summary
The Carrera Crossfire, has always been one of Halfords best-selling bicycles. When they first released the Crossfire E electric bike a couple of years back it was an instant hit with consumers.
For those of you unfamiliar with the Crossfire E, it uses a dependable, but somewhat dated rear hub motor. As the years have gone by, consumers are now demanding e-bikes that are lighter and have the latest high-tech components fitted.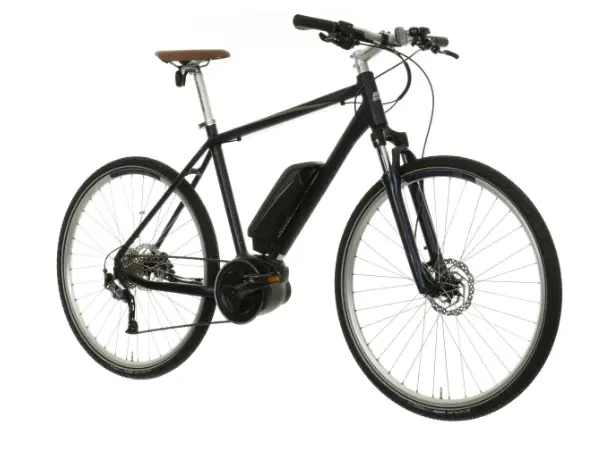 The Carrera Crossfuse was released in response to this increased demand for cutting-edge e-bike technology.
Lets have a closer look under the surface of the Crossfuse to see what makes it tick!
Electric Components
Bosch Active Line Motor
Bosch are now synonymous with the electric bike industry. They have become a global leader in e-bike drive systems, and are at the forefront of research and innovation.
The Bosch e-bike motor division was founded in 2009, and their first motor was unveiled in 2010. Since then, they have set the bar, for all other electric bike motor manufacturers.
Halfords have obviously thought this through, as the Bosch e-bike motor now carries with it a certain kudos amongst savvy consumers.
The particular motor fitted to the Carrera Crossfuse is the Bosch Active Line Plus motor.  This motor has been specifically designed with the more leisurely rider in mind. Bosch also make higher performance motors for mountain bikers and road cyclists.
What can I say about this motor based on my own personal experience with it? Well, it's certainly not designed to have the high torque output of the CX Line motor. When you ride an e-bike with the Active Line Plus motor fitted, the experience is sublime.  It is very quiet, very smooth and the pedal assist is so incredibly sensitive, that you really do feel like you have cybernetic implants in your legs!
This motor is not designed to be ridden hard off-road. The torque output of 50Nm is modest for a mid-drive motor, but in fairness, this motor is designed that way. This also means the motor is very efficient, with the 400Wh (watt hour) battery giving a potential range of 80 miles.
Another great thing about the Carrera Crossfuse, is that it weighs a good 2-3kg lighter than its Crossfire E sibling.
One other thing worth mentioning, is when the motor cuts-out at 15mph, there is no noticeable increase in pedalling resistance, the only thing you may notice is the extra weight of the motor and battery. Pedalling this bike on the flat with the assist switched off is just like pedalling a heavier regular bike.
Display
The Bosch Purion display is compact and functional. It is very neat, and doesn't look out of place on the handlebar. You can adjust the level of pedal assist using the plus and minus keys. Speed and battery power are also displayed, and there is a trip function.
There is also a micro-USB port on the display so the dealer can diagnose any faults if they occur.
Battery
The Bosch PowerPack 400 battery is compact, and lightweight.  The PowerPack 400 uses the latest high energy density lithium cells, which guarantee battery longevity and performance. This battery also uses a smart BMS (battery management system) which monitors important things like temperature fluctuations, voltage and current.
If the smart BMS picks up any anomalies, it temporarily decommissions the battery until an approved Bosch technician can diagnose the fault. This is a very good feature to have on any ebike battery as it limits the potential for long-term damage.
As far as battery range is concerned, the Carrera Crossfuse should be good for a maximum range of approximately 80 miles, but in real-world riding conditions, this figure will vary greatly, depending on the weight of the rider and how much assist is used. I would say a realistic range is probably in the 40-60 miles region. You can use Bosch's excellent Battery range calculator to get a rough idea of the range you can expect based on various metrics.
Bike Components
Gearing
Dependable Shimano components are used for the gearing. The Alivio rear derailleur is commonly found on mountain bikes, and has a long cage to cope with the wide range 11-34 9-speed cassette. The gear shifter is an Acera 9-speed trigger shifter making for smooth reliable gear changes.
The front crankset uses a single 42t chainring, making the gearing of this bike more than suitable for riding on city streets or hilly countryside. The whole package is finished off with a Shimano e-bike specific chain.
Brakes
The Shimano M315 hydraulic disc brakes provided assured stopping power. Although these brakes are at the cheaper end of the scale, they are perfectly suited to a hybrid bike like the Carrera Crossfuse.
Front Suspension
Suntour NEX HLO front suspension with 63mm of travel is the nothing out of the ordinary for an electric hybrid bike. These forks have a hydraulic lock-out and can also be adjusted for damping.
I have ridden many hybrid bikes with these suspension forks and they are perfect for soaking up smaller potholes and coping with things like small tree roots and gravel, when ridden off-road.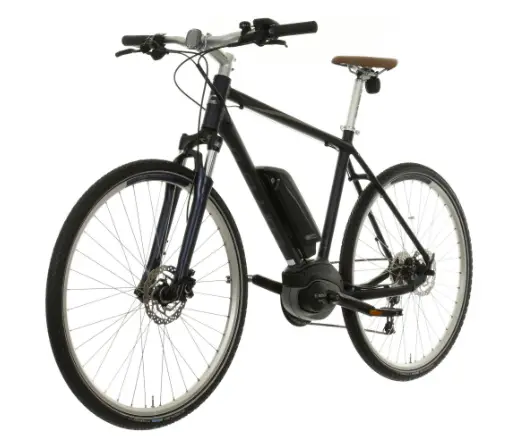 As long as you don't expect these forks to cope with anything too demanding, they will do the job perfectly.
Wheels and Tyres
Both front and rear rims are double-walled alloy with good quality Shimano sealed hubs. The tyres used are the excellent Schwalbe Tyrago KG 700 x 40c, which not only have a good level of puncture protection, but are versatile enough to be used on and off the road.
Finishing Kit
The alloy finishing kit looks nice on this bike and it is set off nicely against the matt metallic grey paintwork. The saddle is a good quality Selle Italia Gel saddle, and should be comfortable enough for most people.
Frame
This frame has typical relaxed hybrid bike geometry, and is especially made for the integration of the Bosch motor. It provides a nice upright riding position.
It has internal routing for the brake pipes and electric cables, and the rear gear cable is routed underneath the top tube.
All in all, it looks nice, and has a good quality finish to it.
Who is the Carrera Crossfuse aimed at?
I would say the Carrera Crossfuse is aimed at anyone from weekend leisure riders, through to commuters and people who just want to get back into cycling.
There are the usual provisions for mudguards, pannier rack and so on. Because of the efficiency of the motor, and the laid-back riding position you could also load it up with panniers and do a spot of touring on it.
Conclusion
I think the Crossfuse is an excellent addition to the Carrera range, all Halfords have to do now is a Carrera mid-drive mountain bike, as currently all their e-MTB's currently use Suntour hub motors.
Is the Carrera Crossfuse good value for money? With most of the big brand competitors raising their prices (in 2021) the Crossfuse is now one of the cheapest Bosch-powered e-bikes available and represents excellent value for money.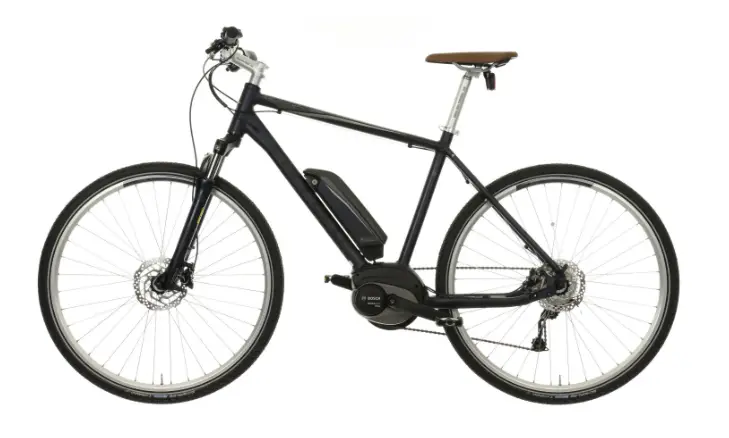 The Carrera Crossfuse is a good hybrid electric bike and a joy to ride, the electric assist is just sublime and it has the back-up of Halfords nationwide network of stores.
The bike comes with the usual 2-year warranty on electric components and 1-year warranty on all other components.
Customer reviews for the Crossfuse are generally very favourable, and having ridden it myself I think it is a pretty decent bike!
Buy the Carrera Crossfuse online at Halfords
If you own a Carrera Crossfuse, please feel free to share you experiences in the comments section below.