Cairn Cycles the Sussex-based company well-known for their very popular e-Adventure electric bike has just announced the release of two exciting new models – the Cairn BRAVe 1.0 and 2.0.
These new e-bikes are a departure from the e-Adventure as they both use the excellent Shimano Steps E7000 mid-drive electric motor (the e-Adventure uses the Fazua system). Looking at these new models I would say they're aimed squarely at the gravel/adventure / bikepacking market. Another impressive feature is the addition of a 630Wh battery.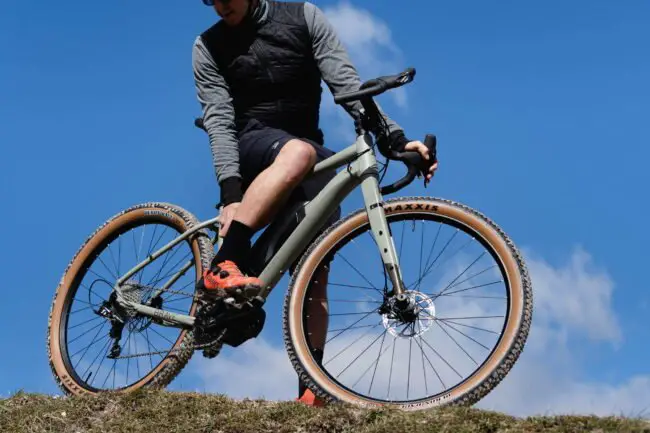 Both models share the same alloy frame, which boasts a very relaxed geometry with a slack head angle and long wheelbase making them excellent for off-road adventures. There are also four separate bosses on the frame and some on the forks ensuring there are plenty of options for bikepacking bags. The Maxxis Recon Race 650b x 2.35″ tyres are much more suitable for off-road riding than your regular gravel tyre.  There's clearance for tyres up to 2.5″ for the intrepid traveller.
There's a drop handlebar and flat bar version which is great as not everyone gets on well with drops.
Cairn BRAVe 1.0
This model uses flared drop handlebars which are specifically designed to make controlling the bike easier when negotiating steep technical descents. There's the excellent SRAM Apex 1 x 11 hydraulic brake groupset with a 38t chainring up front and an 11-42 rear cassette.
The Cairn BRAVe 1.0 is priced at an incredibly competitive £2549 which makes it by far the cheapest mid-drive gravel e-bike currently available.
Cairn BRAVe 2.0
The 2.0 version features wide mountain bike-style handlebars and the excellent Microshift Advent X groupset with a clutched rear derailleur and an 11-46t cassette. I prefer flat handlebars on a bike like this as it gives you more confidence when tackling tough terrain – it's also going to be a lot cheaper to change brakes and gear shifters if you ever feel the need to upgrade. I've ridden a couple of bikes with the Microshift Advent system and for a 'so-called' budget drivetrain in my opinion it's as good as the Shimano and SRAM equivalents.
This model retails for an impressive £2189 – to me, that's an amazing price and there's nothing currently available (with a similar spec) that comes close to the BRAVe 2.0 in terms of value.
Check out the Best Electric Gravel Bikes currently available
Shimano Steps E7000 motor
Both models use the excellent Shimano Steps E7000 e-bike motor – which produces a respectable 60Nm of torque. I can personally vouch for these motors as my electric bike uses a similar E6100 motor. I only ever use it in the lowest power setting (eco mode) and I can squeeze nearly 100 miles out of a single charge from a 504Wh battery.
The Cairn BRAVe uses Shimano's latest 630Wh battery so the potential range could be more than 100 miles. This is going to make the BRAVe an excellent choice for bikepackers wanting to cover long distances on rough terrain between charges – I would imagine if you're careful with the power usage you could easily do a two-day excursion covering 40 miles per day with an overnight wild camping stop – great for weekend adventures!
Conclusion
These new e-bikes are a breath of fresh air – they go beyond the standard gravel bike formula and offer something more rugged for the adventurous rider who's looking to tackle more challenging terrain over a longer distance.
Unfortunately they are only currently available for pre-order with delivery expected in December of this year. I would imagine they'll sell out very quickly. I'll see if I can get hold of one to review – watch this space!
To find out More – Visit the Cairn Cycles website