Looking for a recumbent trike that's electrically powered? In this article, I'll be sharing 5 of the best electric recumbent trikes currently available. Whether you're looking for something to help you tackle hilly terrain or just want a little boost while riding, having a recumbent trike with e-assist is a game-changer!
Recumbent Trike with Electric Assist
One of the great things about recumbent trikes is that it's easy for manufacturers to spec an electric version. Unlike regular bicycles that often require a specific frame (for mid-drive motors), the only thing you need to change on a recumbent is the boom.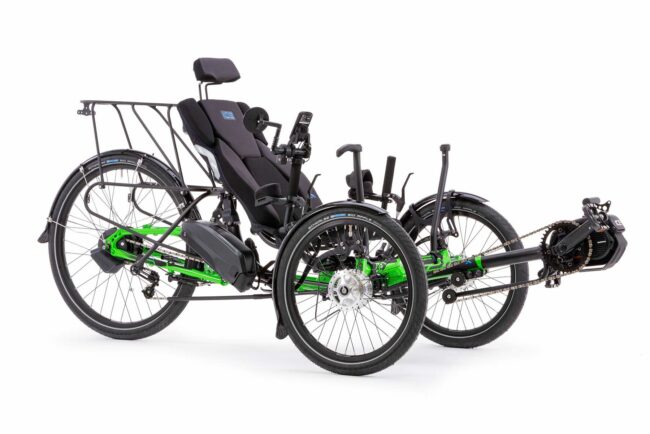 This opens up a whole world of possibilities for the manufacturer and owner alike. Some owners prefer to build their own electric recumbent trike and others prefer to buy one ready-built from the factory.
5 Benefits of Riding an Electric Recumbent Trike
There are many benefits to riding an electric recumbent trike. Some of the top benefits include:
1. Increased fitness – Riding an electric recumbent trike is a great way to increase your fitness level. The pedalling motion is a great workout for your cardiovascular health, leg strength, core strength and mental well-being. Plus, the added electric assist makes it easy to cover more ground and enables you to get a longer workout.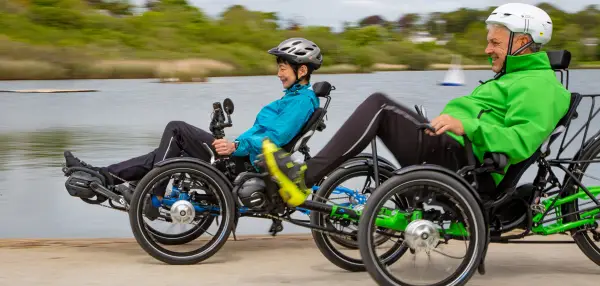 2. Increased independence – Riding an electric recumbent trike can help increase your independence. The low-impact motion is easy on your joints, and the e-assist makes it easier to explore new areas further from home.
3. More fun – Riding an electric recumbent trike is a lot of fun. You no longer have to worry about getting exhausted, out of breath or dealing with muscle aches. Electric assist brings a whole new dimension of enjoyment to recumbent cycling!
Why Riding a Recumbent Trike Feels Different
I consider myself to be reasonably fit and ride between 100-150 miles a week on a road bike. The first thing I noticed when riding a recumbent trike is feeling that familiar lactic burn but in an unfamiliar way.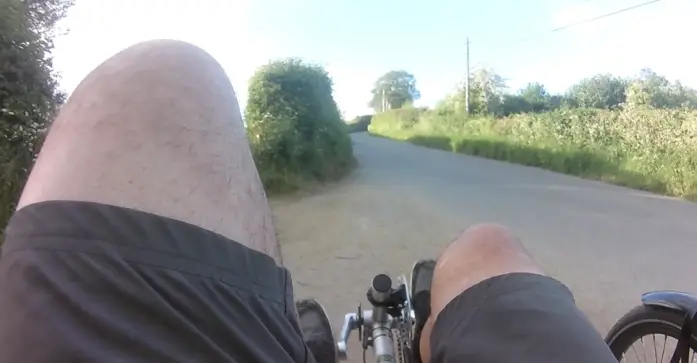 When riding a recumbent trike, you're targeting the same muscles as you would on a regular bike, but due to the physical positioning on a recumbent, they're being worked in a slightly different way.
Best Electric Motor for a Recumbent Trike
I've had the benefit of riding both a rear hub motor and crank drive-powered e-recumbent. Both types of motor work very well, but for me personally, I prefer the crank motor.
Crank-drive electric motor: Also known as a mid-drive, as on a regular bicycle it's mounted where the bottom bracket would be, hence 'mid-mounted'. On a recumbent, these motors are located at the end of the boom, where the crankset would usually be. Typically, Bosch or Shimano Steps electric motors are used.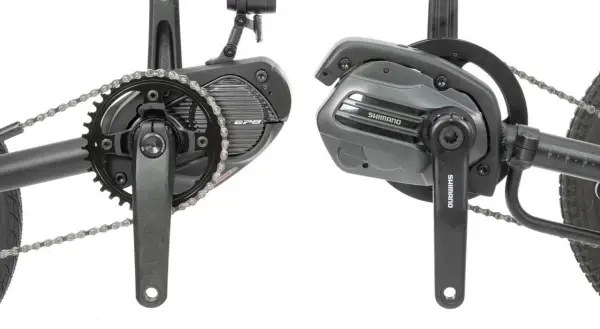 These motors transfer power to the rear wheel through the drivetrain and are exceptionally good for climbing steep hills. Torque output on these motors is usually in the 60Nm – 85Nm range. Assistance is provided by measuring pedalling force from the rider (via a torque sensor).
Rear hub motor: These motors are much simpler and cheaper than crank motors. Although they're not as refined and don't produce the same amount of torque, they are, nonetheless a very effective form of electric assist. A hub motor won't be quite as adept at hill climbing and won't be as efficient, but they are generally very reliable and easy to fix if they go wrong.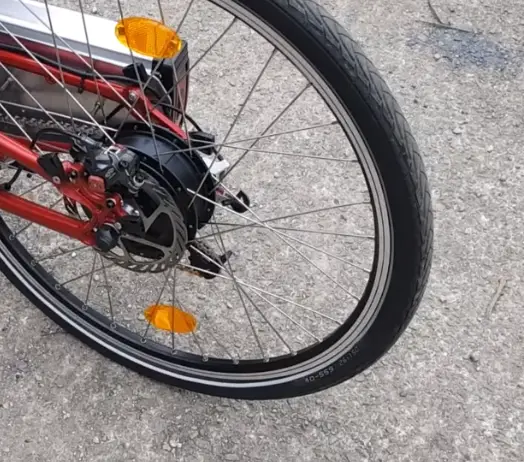 Here are 5 of the Best Electric Recumbent Trikes
I've based the selection below on specification, brand and positive customer reviews. Recumbent trikes are generally quite expensive and adding e-assist increases this price substantially. My personal favourite would be the Ice Trike as they're a company local to me, but all the other e-trikes are excellent.
---
Catrike Expedition / Trail eCat
The Catrike eCat is the perfect choice for those looking for a high-quality, efficient electric recumbent trike. With its reliable Bosch Active Line Plus drive unit powered by a 400Wh battery, and SRAM NX 1 x 11 drivetrain, the eCat provides a dynamic riding experience with minimal pedalling resistance.
---
Ice Trike

Ice Trikes are fully customizable and the option to add electric assist is a great bonus. Ice Trikes now offer the latest Shimano EP8 motor along with the excellent E6100 motor as e-assist options. The former is the more expensive of the two, but if you plan on riding steep hills or off-road, then the EP8 would be the one to go for. Batteries are available in 504Wh or 630Wh sizes.
Visit Ice Trikes for more infomation
---
TerraTrike E.V.O.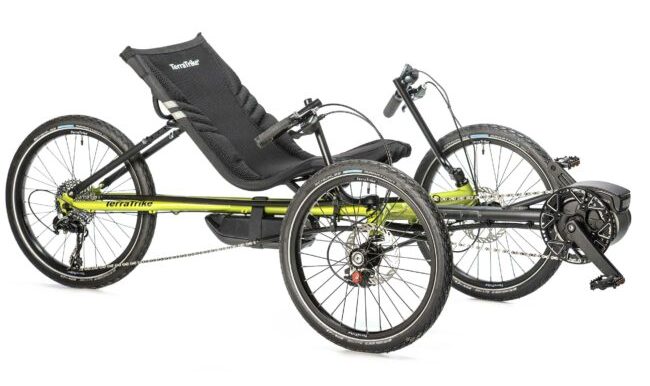 If you're looking for a recumbent trike that's electric, check out TerraTrike's E.V.O. This recumbent trike is powered by the excellent Bosch Performance Line Cruise motor and the PowerPack 400Wh battery, so it's great fun to ride. With a whisper-quiet motor capable of 65Nm of torque, this system will really help to make things easier on the climbs.
Visit Terratrike for more info
---
HP Velotechnik Scorpion Plus
If you are looking for a new riding experience, the HP Velotechnik Scorpion Plus electric recumbent trike might be just what you are looking for. This trike allows you to pedal and exercise, while a powerful motor gives you support up to three times your output, depending on the system. You can conquer the local climb with a smile on your face or ride to work fast and yet completely relaxed. Particularly convincing is the cycling feeling with your recumbent bike maintained – giving you an enjoyable experience each time you take it out for a spin.
Visit the HP Velotechnik website
---
Sunseeker eco-tad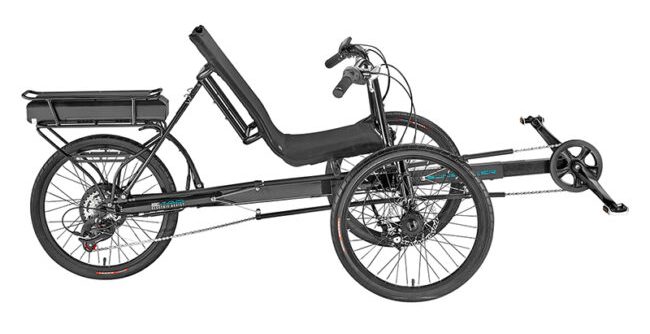 If you are looking for a tadpole trike that is engineered with quality and affordability in mind, the E-Eco Tad Electric Assist Tadpole might be just what you are looking for. This trike offers a 350-watt pedal-assist rear drive motor as well as a 36-volt / 10.4AH LiOn Battery pack to help get you where you need to go quickly and easily. With its fully adjustable mesh-back saddle, this trike is perfect for anyone who wants an enjoyable ride without having to break the bank.
---
Conclusion
I hope you've found this article useful and it's given you some food for thought when considering buying an electric recumbent trike. Riding a recumbent trike is an experience like no other. If you've never tried one, I highly recommend it – especially if you live in a hilly area. The electric assist makes conquering hills a breeze, and the reclined position takes all the pressure off your back and neck. Plus, there are some great health benefits to riding a recumbent trike.
Have you ridden an electric recumbent before? What did you think? Please feel free to leave a comment below.