Ribble CGR AL e – Electric Gravel Bike
ebikechoices is supported by its audience. When you purchase through links on our site, we may earn a commission. Learn more
Ribble cycles have just released a brand new range of electric bikes to complement the excellent SLe Endurance. The flagship of this new range is the Ribble CGR AL e electric gravel bike. There is also a gorgeous hybrid simply called the Ribble AL e.
The Ribble is included in my list of the best electric gravel bikes for 2021
Read the full Ribble CGR AL e Review Here
The range starts at £1899 for the Tiagra equipped model, going up to £2699 for the Ultegra model.
==>>Ribble cycles now ship their e-bikes to EU countries and the USA<<==
My personal choice would be the SRAM Apex 1 version at £2099. The 1 x 11 set-up with WTB tyres on 650b wheels being perfect for a weekend exploring the wilderness!
Ribble CGR AL e Electric Gravel Bike
At a first glance these bikes look to be excellent value-for-money. All models come with hydraulic brakes, flat-mounted with thru-alxes on the front carbon forks.
The CGR stands for Cross, Gravel, Road and combines Ribble's on or off-road, versatile all-rounder with market leading electric bike technology, courtesy of the excellent X35 ebikemotion system. This system offers super stealth, smooth and controlled power assistance with power settings and an integrated Lithium battery pack using the industry standard Panasonic NCR186560GA cells.
The X35 system is used on a variety of electric assist road bikes ranging from Ribble's own SLe through to the Bianchi Aria e-road and Orbea Gain D50. This system has been specifically designed for road bikes and only weighs 3.5kg (including battery) making it an excellent choice for the rider who just needs some help once in a while.
Frame
The Alloy frame has carefully designed tube profiles and geometry to provide stability, controlled handling and comfort over different terrains. The battery is completely hidden within the frames downtube, giving the appearance of a traditional bicycle frame.

Options
Ribble, as always, have provided an excellent array of configurations for the CGR AL e. With a choice of either 700c or 650b wheelsets with a monster tyre clearance of up to 2".  Mudguards and rack mounts complete the versatility ensuring that this bike is as at home on the road as it is on the most adventurous of trails. I can see this bike being really popular with commuters.
All the groupset options are listed below:
The Shimano Tiagra groupset is renowned for its entry level performance and cascaded technology from its top-tier siblings
£1,899.00 >>Visit Ribble cycles
The Shimano 105 11spd groupset is possibly the most popular road groupset currently available on the market today
£2,299.00 >>Visit Ribble cycles
The Shimano Ultegra 11spd is 'pro-proven' as it is a direct trickle down from Dura-Ace and offers the same impressive shift performance as the top tier series.
£2,699.00 >>Visit Ribble cycles
SRAM's Apex 1 – 1 x 11 groupset offers exceptional off-road performance thanks to its simplicity and low range of gears, with an 11-42 cassette.
£2,099.00 >>Visit Ribble cycles
SRAM Rival 1 – 1 x 11 for a lighter build and more advanced tech features. With an 11-42 cassette.
£2,499.00 >>Visit Ribble cycles
Conclusion
Electric bikes just keep on getting better and better. I was really impressed with the Ribble SLe and i'm sure it will be the same for the CGR AL e. I can't wait to get my hands on one, to put through its paces!
I love gravel / adventure bikes as they combine the excellent road manners of a normal road bike with the versatility of being able to ride on rough surfaces.  That's what makes these bikes so good for commuters. The added bonus of electric assist is excellent – especially if you don't want to turn up for work all sweaty! Watch this space for a full review.
***There is now a flat handlebar version of the Ribble CGR AL e – It's featured in my list of 6 of the best lightweight electric bikes currently available.
Ribble AL e electric hybrid bike
There's hybrid bikes, and then there's the Ribble AL e – I haven't seen this bike in the flesh yet, but I think it is absolutely gorgeous!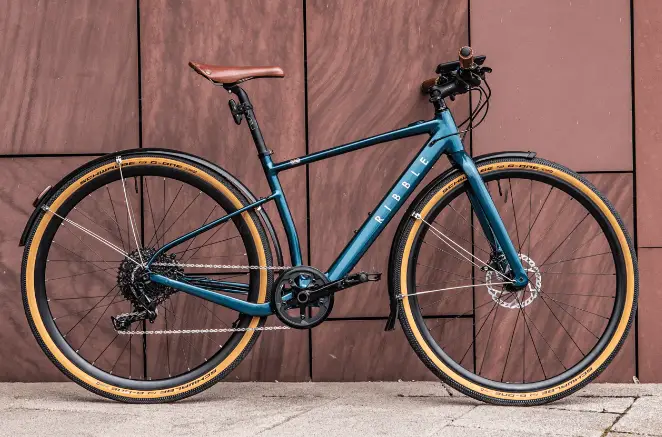 As with Ribble's other electric bikes, the AL e uses the excellent X35 ebikemotion system. You get all the benefits of a smart e-bike system with none of the typical compromises.
The Hybrid AL e looks to be a superb all-rounder, with a combination of the best features of a mountain bike and a road bike. It is guaranteed to offer exceptional versatility.  The AL e uses the excellent SRAM NX 1 x 11 groupset with hydraulic brakes, finished off with Schwalbe Marathon or G-one  tyres.
What I really love about this bike is the perfect blend of style, comfort and efficiency. The Ribble AL e combines e-bike technology with the beautiful retro styling of the paintwork and the matched, faux leather handlebar grips and cushioned saddle. This bike not only looks stunning but should be comfortable to ride too.
With mudguard and rack mounts built into the frame this bike will be equally at home in the city or on the trails. There is the option to fit full coverage mudguards and carry luggage. Perfect for those longer days in the saddle.
The lightweight but strong aluminium frame makes the Hybrid AL e just as good for putting on the car for a weekend away as the morning commute. This bike will also be substantially lighter than most electric hybrid bikes due to the light weight of the electric assist system. Read the full Ribble AL e review here.
Conclusion
What an excellent addition the Ribble electric bike range! The AL e is going to be a popular choice with commuters and recreational riders alike.  It is also very pleasing to the eye, which always helps.
I think one of the biggest selling factors will be the weight. This whole bike should weight no more than around 15kg, making it not much heavier than a non-assisted hybrid bike (especially one with suspension forks). The 250wh (watt hour) battery pack should give enough range for a fairly long daily commute and a potential range of 50+ miles, if the electric assist is only used when it is really needed.
There will be a full-loaded version of the AL e available soon. The standard model is excellent value-for-money at £1899.
>> Visit Ribble cycles for more info