Best Electric Hybrid Bikes under £3000 (2021 / 2022)
ebikechoices is supported by its audience. When you purchase through links on our site, we may earn a commission. Learn more
In this article I will be looking at a selection of the best electric hybrid bikes available for under £3000 for the 2021 / 2022 season. The list below includes a good mixture of hybrid e-bikes in the £2000-£3000 price bracket – in this price range you can expect a bike with excellent build quality and a minimum of 2 years warranty. All the models in this article are from well-know brands and use the latest in e-bike technology.
What is an electric hybrid bike?
Hybrid electric bikes bridge the gap between a full-on mountain bike and road bike – they offer the best of both worlds without the extremes. Electric mountain bikes are very capable off-road but are very heavy and can feel a bit cumbersome out on the road, e-road bikes are fast and light on the road, but aren't designed to soak up poorly surfaced country lanes and forest trails.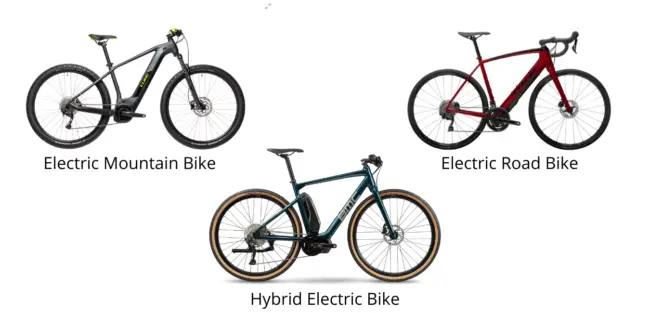 Versatility is the key with hybrid e-bikes, they are the kind of bike you can happily ride on tarmac or if you fancy going into the country to do some exploring you can ride on forest trails, single track and canal tow paths.  Hybrid's are also suitable for riding through the winter.
One of the main features of hybrid electric bikes is a more relaxed frame geometry combined with higher volume tyres and front suspension (on some models). The front suspension does add a bit of weight and in my experience you can ride a rigid fork hybrid off-road without any issues.
Most modern hybrid electric bikes use similar electric motors and batteries found on their mountain bike counterparts – these motors are usually softer in their power delivery and optimised for efficiency.
Because of their inherent versatility and comfort, electric hybrid bikes are usually the first choice for commuters. They fit the bill perfectly and are tough enough to handle the rigours of daily riding in all weather. Read my article featuring some of the best electric bikes for commuting.
Commonly used electric motors
Because hybrid e-bikes aren't usually ridden in the same demanding manner as mountain bikes, the electric motors used are designed to be more efficient and produce slightly lower torque figures. This doesn't mean they're lacking power – I know from personal experience that the difference is marginal at best.
All the bikes here use either the Bosch mid-drive, Shimano Steps E6100 or x35 ebikemotion rear hub motor.
Bosch
The Bosch electric bike motor is a mid-drive, meaning it's located centrally (in the crank) and produces power that is delivered to the rear wheel via the chain. This design not only drastically improves efficiency but also means a higher torque output – very useful for climbing steep hills.
Shimano Steps
Shimano's e-bike motor is also a crank or mid-drive motor – it works in a very similar way to the Bosch. My own personal e-bike uses the Shimano Steps E6100 motor which is featured on a few of the bikes below. It's incredibly efficient while producing a significant level of assist even in the lowest power setting.
The Shimano Steps motor can be configured using the partner e-Tube smartphone app, there is also the e-Ride app for tracking rides and uploading to platforms like Strava. This app also supports a navigation feature. The display can also be connected via ANT+ to an external bicycle computer (compatible Garmin models).
X35 Ebikemotion
The x35 ebikemotion system is designed to be incredibly lightweight and integrated producing a finished e-bike that's not only very light but doesn't actually look like an electric bike. Because this system uses a small rear hub motor, there is a trade-off in performance and battery range. This is mitigated by the very light weight of the bike.
This system doesn't usually come with a display, but instead a single button that controls power assist and displays battery range with a three colour LED. There is a simple partner app available that will connect your smartphone with the system and display all the info you will need plus a navigation feature.
Battery types and range
Both Bosch and Shimano typically offer batteries in three sizes: 400Wh, 500Wh and 625Wh – these batteries will give the rider a potential range of anything up to around 100 miles. I regularly get close to 100 miles range out of my Vitus Mach E, but I only ever use 'eco' mode. Battery range is very dependant on rider weight, tyre pressure wind direction and terrain ridden on. Bosch have produced a very helpful range calculator.
The X35 ebikemotion system uses a much smaller 250Wh battery – the reason for this is neat integration into the bikes frame and to help keep the overall weight down. It's still possible to squeeze 50-60 miles out of a charge, but these bikes are designed more to be ridden as a regular bike with the assist only helping when the rider needs it.
The top 10 best electric hybrid bikes under £3000 are…
My list below features some of the best electric hybrid bikes currently available for under £3000 – there are much cheaper bikes available in this category but I wanted to stick with trusted brands and e-bikes I have some experience with. If you're after a more road orientated bike, read my article on flat bar electric road bikes.
---
1. Ribble AL e Hybrid
The Ribble AL e hybrid is an excellent choice for those looking for the best of both worlds. I've spent a lot of time riding one of these recently and the great thing about the Ribble is you can have a regular bike and e-bike all rolled in to one! Weighing in at around 14kg, the AL e isn't much heavier than a regular hybrid bike and it's just as easy to ride without the assist.
I would say that the AL e is aimed more at the rider who already has a degree of fitness or someone who lives in a relatively flat area. The small rear hub motor provides a useful boost when climbing moderate hills, but it lacks the outright grunt of a mid-drive when climbing long, steep hills and you will still need to put in a fair bit of effort.
This bike comes equipped with mudguards, rack and Schwalbe Marathon puncture resistant tyres. Shimano hydraulic brakes provide assured stopping power and gearing is SRAM 11-speed with a wide range cassette and 42t single chainring up front.
I have had the pleasure of long-term testing the Ribble AL e – read my full review here.
Buy Now: Ribble AL e Hybrid – Fully Loaded Edition £2299
---
2. Cube Touring Hybrid One 500 (2022 model)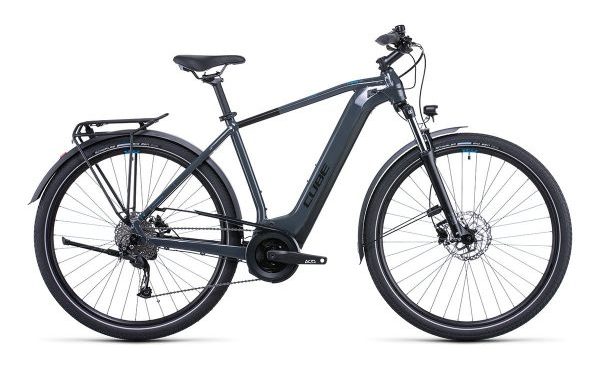 The Cube Touring Hybrid One 500 is another excellent electric hybrid bike. In my opinion it's probably one of the best value bikes in its class and currently retails for just under £2500. A premium brand, Bosch-powered e-bike doesn't get much cheaper and there have been no compromises on build quality and components.
Check out 5 of the best car racks for electric bikes
This bike uses Shimano 9-speed gearing and is fully equipped for daily commuting or a spot of long-distance touring. You simply will not find a better equipped e-bike at this price – it has mudguards, rack, lights and kickstand. The icing on the cake is the excellent 3rd Generation Bosch Active Plus motor and 500Wh battery, which will give a real-world range of 50-70 miles on a single charge.
Cube have been producing great e-bikes now for a few years and their experience shows. The Touring Hybrid One not only looks great, but performs great as well – highly recommended!
Buy Now: Cube Touring Hybrid Pro 500 
---
3. Vitus Mach E Urban 2022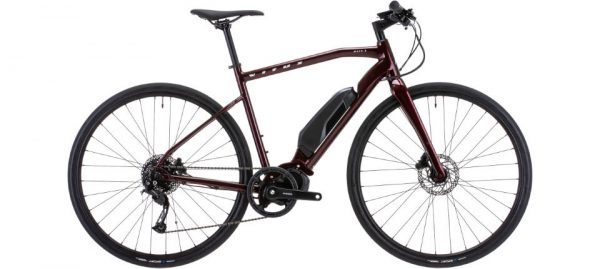 The Vitus Mach E Urban is sold exclusively through Wiggle and Chain Reaction Cycles and uses the excellent Shimano Steps E6100 motor with a 504Wh battery – the Mach E is based on its non-assisted stablemate and the overall build quality is excellent.
A smooth welded 6061 alloy frame with relaxed geometry makes the Mach E a really versatile mile muncher. I've ridden 70 miles in one go on mine through very hilly Cornish countryside and it's incredibly comfortable.
Although it doesn't come fitted with a rack or mudguards, these can be easily added if required. Gearing is provided by dependable Shimano 9-speed components and the flat-mount Shimano hydraulic brakes do a very good job of stopping. The V-Tire G-Sport all terrain tyres are high volume 700x40c and do a great job of taking the sting out of potholes. I purchased mine back in October 2020 and have covered over 1000 miles in very wet winter weather- it's still performing as good as the day I got it! Read my full and detailed review here.
If you're after a hybrid electric bike that doesn't weigh a ton (17.8kg) and can be ridden off-road, the Vitus Mach E is a great buy.
Check availability: Vitus Mach E Urban Hybrid Electric Bike (2022 version)
---
4. BMC Alpenchallenge AMP AL Cross One Hybrid 2021
BMC really know their stuff when it comes to producing high-end road bikes – this influence can be felt when riding the BMC Alpenchallenge AMP AL Cross hybrid. Not only is it a stunning looking electric bike, but the Alpenchallenge has been designed to be sporty on and off the road. Even the placement of the battery pack is designed to centralise the weight making the handling really sharp and precise.
The Alpenchallenge also uses the excellent Shimano Steps E6100 motor with 504Wh battery and benefits from a 38t front chainring combined with a massive 11-46 10-speed rear cassette and Shimano Deore M5100 derailleur.
WTB Resolute 700x42c tyres provide more than adequate grip for riding trails and gravel and the overall weight of this bike is a very respectable 18.2kg.
---
5. Merida ESpresso 300 EQ SE 2021
The latest Merida ESpresso 300 EQ SE is another excellent value hybrid e-bike that comes with everything you'll need for long days in the saddle. The ESpresso also uses the Shimano Steps E5000 motor with a 418Wh battery – this motor produces slightly less torque than the E6100 unit but benefits from increased efficiency.
Gearing is Shimano 9-speed with hydraulic brakes, there are also tough hybrid-specific rims with puncture resistant Continental touring tyres.
Merida produce some quality bikes and theESpresso 300 is no exception, the 418Wh battery should give a potential range of between 50-70 miles.
Buy Now: Merida eSpresso 300EQ SE Electric Hybrid Bike (2023 model)
---
6. Cube Touring Hybrid EXC 500 2022 – Electric Hybrid Bike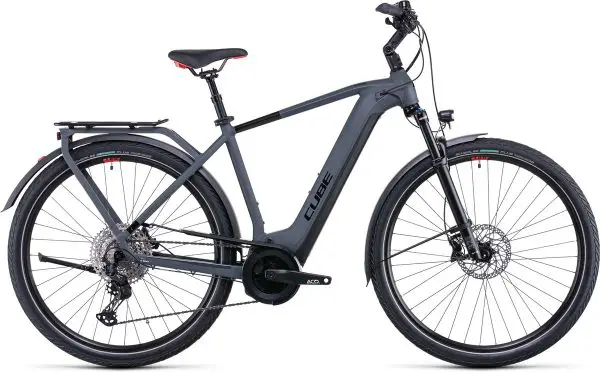 The Touring Hybrid EXC 500 is the high spec version of the Hybrid One featured above. This model boasts trail-busting Suntour XCR32 100mm travel air forks and a top notch Shimano Deore 12-speed drivetrain with a massive 10-51 cassette. On top of that there is a Satori adjustable stem so you can raise or lower the handlebar height. There's also an excellent Cube HD suspension seat post.
Brakes have also been upgraded to Shimano MT400 with 180mm rotors for extra stopping power and the tyres are Schwalbe Energizer Plus which are practically puncture-proof. Power is provided by the Bosch Performance Line generation 3 motor with 65Nm of torque and a 500Wh battery.
Cube has done a great job with the Touring Hybrid EXC 500 – it bridges the gap between the cheaper and £3000+ models. I personally think it's one of the most capable hybrid e-bikes on this list, you could certainly get away with riding more challenging terrain due to the excellent Suntour forks, wide-range gearing and decent brakes. If you want a hybrid that can tackle rougher riding this hits the mark!
Buy Now: Cube Touring Hybrid EXC 500 2022 – (trapeze frame)
---
7. Specialized Turbo Vado SL 4.0
I first had a ride on the Specialized Vado SL 4.0 last year and was immediately impressed. It's a fantastic bike and really light and nimble – the excellent SL 1.1 mid-drive motor is also used on their  Turbo Creo SL Comp electric road bike. This is a bike that makes you smile every time you ride it, the assist is so smooth and rewarding it really makes you feel superhuman!
The frame geometry is designed for fun and despite its rigid fork the Vado SL is really capable when riding on rougher terrain. I seriously thought about buying one of these last year, but my budget didn't quite stretch at the time. The Specialized Vao SL 4.0 is also on my list of the best lightweight electric bikes.
This e-bike really made an impression on me last year, and if you're looking for a lightweight electric hybrid bike with decent battery range and a cracking motor, the Vado SL 4.0 is a hard to beat.
Buy Now: Specialized Turbo Vado SL 4.0 (UK direct from Specialized)
Available direct from Specialized (USA)
---
8. Scott Sub Tour ERIDE 30 2021 – Electric Hybrid Bike
Scott are another brand who've been churning out decent e-bikes for a good few years now. The Scott Sub Tour eRIDE 30 is a great all-rounder. The frame has a comparatively low stand-over height and the bike benefits from all the desired accessories like lights, mudguards and pannier rack.
Gearing is Shimano Alivio 9-speed and brakes are MT200. Power is provided by Bosch's Active Line motor which doesn't produce quite as much torque as other models but is incredibly efficient – the 500Wh battery should give a potential range of 80 miles if ridden sensibly.
Buy Now: Scott Sub Active eRide 30 (2022) £2449
---
9. Giant Roam E+ Electric Hybrid Bike
No article about hybrid e-bikes would be complete without a Giant and their excellent Sync-Drive motor. The Giant Roam E+ is a completely new model for 2021 and borrows heavily from their regular Roam range of hybrids.
The Sync-Drive motor is made by Yamaha in collaboration with Giant and it is a powerhouse of a unit. These motors are renowned for their long-term reliability and strong performance. A 400Wh battery provides a surprising potential range of up to 70 miles – more can be achieved if you're really frugal with the e-assist.
Gearing is Shimano Alivio 9-speed with an 11-36 cassette and 42t chainring. The rims are Giant GX03 with Crosscut 700x45c gravel tyres (which are tubeless ready).
I think for the price, the new Giant Roam E+ is excellent value, the deal clincher with this bike is the silky smooth motor which really does reward the rider with an excellent level of assist when climbing steep hills – one of my favourites.
Buy Now: Giant Roam E+ £2199
---
10. Marin Sausalito E2 Electric Hybrid Bike
My fondness for Marin bikes goes way back before e-bikes were even a thing. What I like about the Marin Sausalito E2 is the styling, which seems to be a nod to mountain bikes of old. Althouhg the Sausalito is marketed as a hybrid I would say the look and feel is reminiscent of a mountain bike.
Marin have chosen the excellent Shimano Steps E6100 motor with the 418Wh battery plus a trail-busting 11-51 11-speed drivetrain. The 650b wheels shod in WTB gravel tyres make this a bike that can handle a multitude of conditions. The Suntour NVX forks have somewhat limited travel, but this is meant to be a hybrid after all.
I really like the Sausalito E2, it's a reasonable price and has some decent components.
---
Conclusion
So there you have it, some of the best electric hybrid bikes available for under £3000. But is there a clear winner?
If having all the accessories is a big factor then you simply can't beat the Cube Touring Hybrid One 500 for value and all-round ability. Coming in close behind the Cube is the Giant Roam E+ and the Vitus Mach E Urban. I absolutely love my Mach E and it's allowed me to put in a lot of miles over the winter – the Shimano Steps E6100 motor is a gem and it seems very reliable, despite riding for days on end in heavy downpours.  The Giant Roam E+ has a fantastic motor as well and is a good solid workhorse capable of tackling mixed terrain.
For a light weight option, the Ribble AL e is unbeatable – I've had one of these on loan from Ribble cycles and it really is a fun bike to ride. There's not many e-bikes you can comfortably lift with one arm! This is even lighter than some regular bikes, and you really notice the weight when riding it. With some of the heavy electric bikes featured here, if you run out of battery it can be a real problem – not so with the Ribble, you can just ride it home like a regular bike.
If you're looking for something more road orientated then the BMC Alpenchallenge AMP AL Cross has road bike DNA fused with multi-surface riding components – it's really a flat bar gravel e-bike. I had a go on the 2020 AMP Sport model which has the same frame and motor but with skinnier tyres and it was a cracking bike to ride. It's also one of the best looking bikes here in my opinion.
The Cube Touring Hybrid EXC 500 has by far the best specification of any bike listed here. It is the only bike with Shimano's 12-speed Deore groupset and the Bosch Performance Line motor. I think for the price it takes some beating. My only reservation would be the rather heavy weight at over 26kg.
Although a decent bike, I feel the Scott Sub Tour ERIDE 30 is a tad overpriced when compared with the Cube EXC500 – the specification really puts it about £300-£400 cheaper than it is.  The same applies to the Merida ESpresso 300 EQ SE – although it is well kitted-out, the Shimano Steps E5000 motor doesn't have the same grin factor as the E6100. Don't get me wrong, it's a decent enough  motor but it's just more suited to gently undulating terrain.
I like the Marin Sausalito E2, it looks great and has a lot of potential for all-terrain riding. The gearing is excellent and the 650b tyres will perform well on or off road. The Shimano motor is one of my favourite, but I feel they could have fitted the 504Wh battery at this price.
The winner for me would have to be the Specialized Vado SL 4.0 – I would have brought one last year if I had the money, it epitomises what a fun, lightweight electric hybrid bike should be. The electric assist from the integrated SL 1.1 mid-drive motor is so smooth and quiet you'd be hard pushed to realise you were even riding an e-bike, until you realised you were cycling up a 10% climb in double figures!
I hope you found this article useful. If you have any questions or comments regarding any of the bikes featured here, please feel free to leave a comment below. I usually reply within 24 hrs. I will keep an eye on stock levels as these bikes usually sell out really quickly. Thanks for reading.