8 of the Best Electric Bikes for Commuting (under £2000)
This post contains affiliate links, to find out more information, please read my affiliate disclosure
In this article, I'll be taking a look at 8 of the best electric bikes for commuting currently available for under £2000. Plus I'll explain why e-bikes are becoming a viable alternative to using a car or public transport.
A lot has changed in the world over the last few months, and when we start to emerge from the current crisis things are going to be different. But it's not all bad news, the UK government has recently announced that it will be investing £2 billion in walking and cycling to ease the pressure off public transport in light of the COVID-19 Pandemic.
One thing that has been mentioned is a £250 grant towards the cost of purchasing a new bike (e-bikes will be included in this). This means that electric bikes will become even more accessible to people who want to start using one for the daily commute.
An E-Bike Commuting Revolution?
As countries around the globe start to ease restrictions in the wake of the COVD-19 pandemic, one common thing has emerged, particularly in Europe. Governments are promoting cycling as a means of commuting to work.
Even before the pandemic, savvy commuters were taking to electric bikes in their droves. The benefits of using an electric bike for commuting are obvious – cheaper, quicker and great for your health and the environment! And make no mistake about it, riding an e-bike daily, even for just a few miles can be extremely beneficial for you physical health and mental well-being. I have written an article on the health benefits of riding an e-bike, and the evidence is clear.
When all this is over, people are going to be understandably cautious and nervous about using public transport. I remember getting a train into London a couple of years back and I was horrified at how people were literally crammed in like cattle. I really can't see this scenario repeating itself in future, indeed the British government have made clear their intentions to promote and incentivise cycling.
So what's the solution?
We already know that the road system in the UK especially cannot handle high volumes of traffic. I used to dread driving in any large city in the UK (particularly London). Sometimes it would take me three hours just to get from one side to the other.
Owning and running a car is becoming an increasingly expensive undertaking. Modern cars are notoriously expensive to fix when they go wrong and fuel, insurance, tax and general servicing means that running a car in 2020 can take up a substantial slice of your monthly income.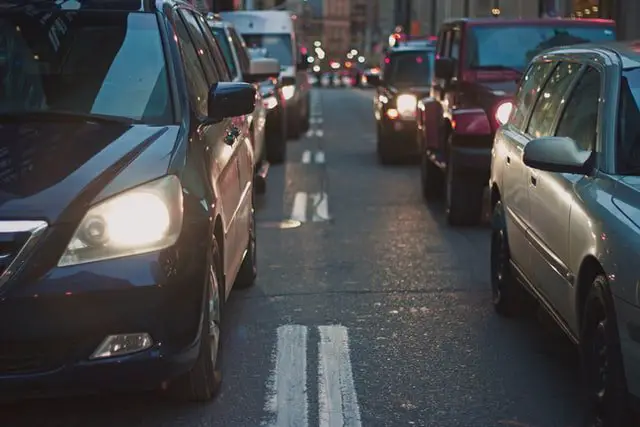 We as a society also lead increasingly sedentary lifestyles, and the pressures of modern life can leave little time for exercise on a daily basis, especially if you have a family.
Using an electric bike for commuting could be the answer to a lot of the above problems.
What makes a good commuting e-bike?
In this article I'm going to be concentrating on factory built e-bikes that are specifically suited to daily commuting. They all need to conform to a certain criteria to be (in my opinion) suitable.
It's true that any electric bike can be used for the purpose of getting to and from work, and some of you may prefer bikes from specific cycling disciplines like mountain or road bikes. Folding e-bikes are also particularly suitable, but they are usually better for shorter distance commutes. If you prefer drop handlebars then an electric gravel bike would be perfect for the daily commute.
If you're seriously thinking about making the move to using an electric bike as a daily form of transport in wake of the COVID-19 crisis, then you need to consider a number of things:
What is your budget, and are you eligible for the Cycle to Work scheme or Green Commute innitiative?
How long is your daily commute?
Are you travelling on mainly asphalt or does you planned route involve unpaved surfaces?
What is your current level of fitness?
How hilly is your route to work, and what is the prevailing wind direction?
Your answers to the above questions will help determine what bike is most suitable. If your commute it is on mainly smooth tarmac, then a rigid frame bike will be fine. If, like most British roads there are potholes, cracks and other hazards you may want to consider a bike with high volume tyres and front suspension.
What electric motor is best for a commuting e-bike?
The answer to this relates to the above. If you have lots of steep climbs on your way to and from work you would ideally need a mid-drive like a Bosch motor.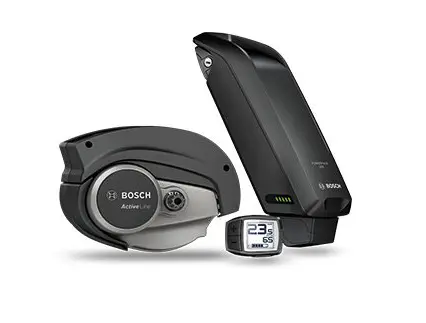 If your ride is mainly on the flat with gently undulating hills, then a hub motor would do the job perfectly. Another thing to consider when choosing a motor is your current level of fitness. Small hub motors like the X35 ebikemotion system are lightweight, but don't offer the same amount of assist (in terms of torque) as the Bosch units.
What qualities should I look for in a commuter e-bike?
Relaxed geometry
Most commuter-style e-bikes have a very relaxed frame geometry with a comfortable upright riding position. The last thing most people want when cycling to work is to be hunched over the handlebars and turning up for work aching from the ride.
Enough battery power for a 30 mile round trip
Thankfully e-bike battery technology has come on in leaps and bounds over the last few years, coupled with the fact that most modern e-bikes are much more energy efficient than their predecessors, so finding an electric bike that has an assisted range of 30-50 miles is easy.
What accessories should I have fitted for commuting?
If you're serious about commuting by e-bike, then you will want a bike that has all the accessories that will make your journey more pleasant, especially when you consider the nature of the weather in the UK and northern Europe. You're going to want to be as comfortable as possible. And you should certainly invest in some good quality protective clothing for the inevitable wet weather.
Mudguards
Considering we have more wet than dry days on average in the UK, mudguards make one hell of a difference. I have a touring bike with mudguards and a racing bike without. If  I get caught out in the rain on my racing bike I get a proper soaking, especially feet and legs.
Pannier rack
Not everyone wants to carry their stuff in a rucksack, so having a pannier rack is a particularly useful thing to have. Modern panniers are usually waterproof and you can easily store you belongings without having the discomfort of something on your back.
Lighting
When the nights draw in over the winter months, lighting is essential and having a light system that runs of either the bikes battery or a dynamo hub is a must.  I would still advise carrying a spare set of USB rechargeable lights just in case.
The Top 8 Best Electric Bikes for Commuting are…
And so, on to my list of the top 8 best electric bikes for commuting. All of the bikes below have been hand picked based on their specification, value for money and customer feedback. I have test ridden most of the e-bikes below and can vouch for their rideability.
---
1. NCM Milano Max Trekking E-bike
NCM electric bikes are sold and distributed by Leon Cycles in Germany. They have distribution facilities in Europe, the UK, North America and Australia. They have gone from being a relatively new brand to a global success story in a relatively short space of time.
The main reason for this is they offer excellent quality e-bikes at affordable prices, with the emphasis on decent specification and good battery range.
The NCM Milano Max has the best specification of any hybrid e-bike at this price. There is also a Shimano Nexus 8 internally geared rear hub – this means you can change gear when stationary (unlike a derailleur system).
Notable features:
Bafang M400 250w mid-drive motor with an impressive 80Nm of torque
Powerful 576Wh (36v 16Ah) battery – a potential range of up to 75 miles
Zoom Aria front suspension fork
Schwalbe Puncture resistant tyres
Suspension seat post with ergonomic comfort saddle
Shimano Nexus 8 hub gears with grip shifter
Front and rear lights (activated from LCD keypad)
Conclusion
For the price the NCM Milano Max offers excellent value and everything you would look for in a daily commuter. It's comfortable, has plenty of power for getting you up steep hills and has a massive battery range. My only gripe is it would have been nice to see hydraulic brakes (the Milano has mechanical brakes fitted). Another issue is the Milano is only seems to be available in smaller frame sizes. Having said that, I found that by adjusting the handlebar, saddle and seat height I could ride it without issue (and I'm 6'1″). All in all the NCM is a great option for the daily commuter and well worth the money.
Buy Now: NCM Milano Max Electric Trekking Bike £1599
---
2. Raleigh Array Crossbar Electric Bike
At £1275, the Raleigh Array Crossbar is one of the Raleigh's cheaper e-bikes. It looks to me to be very similar in design to the Carrera Crossfire E, and also uses the same Suntour HESC hub motor with ATS (Active Torque Sensing) pedal assist. Even the battery is the same 417Wh capacity.
The rest of the components are fairly common at this price point. There is Shimano 7-speed gears with a fairly decent spread of gears. Mechanical disc brakes, front and rear mudguards and a pannier rack and kickstand (and not forgetting the lights).
The Array has a nice, solid feel to it and is comfortable to ride. The Suntour rear hub motor is generally very reliable and it packs a decent punch for a hub motor. Torque-sensing pedal assist provide smooth power in 3 assist levels, and the battery range is respectable enough at around 50 miles maximum.
Suntour NEX front suspension with 63mm of travel combined with high volume 700 x 47c tyres make for a really smooth ride.
Conclusion
The Raleigh Array Crossbar is a decent electric bike for the price. There's nothing particularly outstanding about the components used, but what you get for your money is a well thought-out e-bike that has all the bells and whistles and is ready for anything your daily commute can throw at it. The Suntour motor is generally reliable and the combination of front suspension and big tyres make for a very comfortable ride. It's definitely not one for the weight weenies though as it's a bit on the heavy side at 23kg, but that is fairly normal on an e-bike of this price.
Buy Now: Raleigh Array Crossbar Hybrid E-Bike £1275
---
3. Cube Hybrid Touring One 400
The Cube Touring Hybrid One offers everything you would wish for in a commuter e-bike. You have typical Cube build quality combined with the superb Bosch Active Line Plus mid-drive motor – a drive unit that is renowned for efficiency and long-term reliability.
A neatly integrated Bosch 400Wh battery will give a surprisingly long range if the assist is used sensibly. I know an owner who regularly gets 70 miles plus, out of a single charge. Calculate your potential range with Bosch range assist.
All the accessories you'll need are fitted to this bike, with the added bonus of hydraulic disc brakes and 9-speed wide ratio gearing. I've ridden the Cube Touring a few times and it's a very pleasant e-bike to ride. The Bosch motor provides smooth, seamless pedal assist, and although it's not the most powerful motor Bosch produce, the Active Plus has been designed specifically to meet the needs of the urban rider / commuter.
Conclusion
The Touring Hybrid One 400 is excellent value for money. Cube have been producing quality electric bikes for a few years now and they have one of the most comprehensive and diverse range of any manufacturer. Their mountain biking heritage is evident in the design and frame geometry. Even though all the components are fairly entry level, they come together to produce an incredibly versatile commuter e-bike that is equally at home on tarmac, gravel paths or bridleways. Read my full review here.
Buy Now: Cube Touring Hybrid One 400 E-Bike £1699
---
4. Raleigh Motus Derailleur Crossbar 2020
The Ralieigh Motus Crossbar is Raleigh's entry-level Bosch-powered hybrid electric bike.  It uses the latest Bosch Active Line motor which at 2.9kg is smaller and lighter than its predecessor.
Like other bikes on this list the Motus comes with everything you'd expect on a commuter e-bike – mudguards, lights, rack and kickstand.
The rest of the components are pretty standard fayre on an electric bike at this price point. You have a Suntour NEX suspension fork to soften bad road surfaces combined with 700 x 40c puncture-resistant tyres. Decent Tektro T285 hydraulic disc brakes and Shimano 7-speed gearing  fitted with a wide-ration Suntour 11-34 cassette.
The torque-sensing Bosch Active Line motor is specifically designed for hybrid / city bikes with an emphasis on efficiency and smooth performance. The 300Wh capacity is fairly low, but due to the increased efficiency of the motor you can still expect to squeeze about 40-50 miles out of a single charge.
Read my full review of the Raliegh Motus low-step Electric Bike
Conclusion
The Raleigh Motus Crossbar is another decent entry-level Bosch-powered electric bike. Raleigh is a trusted brand that's been around for a very long time and their Motus range of mid-drive e-bikes offer good value for money combined with a good accessories and Bosch reliability.
Buy Now: Raleigh Motus Crossbar Electric Hybrid Bike £1650
---
5. Scott Sub Active ERIDE 30 2020 – Electric Hybrid Bike
If you're looking for a step-thru frame / unisex design the Scott Sub Active ERide 30 is one of the best commuter e-bikes in its class. Not only does it look nice with its matt grey finish and gumwall tyres, but it is adorned with the latest Bosch motor and an excellent 400Wh battery pack.
Riding one of these is a pleasure. You're sat bolt upright, and the slightly swept back handlebars provide an incredibly comfortable riding position. If you have problems getting you leg over a conventional frame, a step-thru is the way to go.
The Sub Active ERide 30 is also very well equipped and is fitted with Suntour NEX E-25 suspension fork and Schwalbe Energizer Plus puncture resistant e-bike specific 700 x 50 tyres.
The gearing and brakes are also perfect for city commuting. There is a 38t front chainring combined with a 9-speed 11-34 rear cassette and Shimano BR-M200 hydraulic disc brakes for assured stopping power. There is also the added security of a rear wheel lock.
Conclusion
Although not the cheapest bike on this list, the Sott Sub Active ERide 30 is incredibly well-made and equipped. It really has to be ridden to appreciate how comfortable it is. The Bosch motor is silky smooth and the rack mounted battery should give a potential range of 70 miles on a single charge. It also looks great.
Buy Now: Scott Sub Active ERide 30 Step-Thru Electric Bike £1999
---
6. Orbea Gain F35 2020 – Electric Road Bike
There a two things that really make an impression when you first get up close to an Orbea Gain F35 – firstly it doesn't look like an electric bike, secondly it doesn't weigh anything like an e-bike. In fact the Gain F35 feels lighter than some regular hybrid bicycles. Another thing about the Orbea is the strikingly stylish lines, it has an almost 'retro' look about it.
If weight is a big deciding factor when buying an electric bike for commuting, the Orbea Gain F35 is one of the lightest available, tipping the scales at just 14.5kg – to put that into perspective, that's a whole 8kg lighter than the most of the bikes on this list.
The Gain is an e-bike you can choose to ride with or without the assist, and for the average commuter this can be of great benefit. I've ridden various Gain models and you do not feel like you're riding an electric bike with the assist off.
Another great thing about the F35 is the excellent X35 ebikemotion drive system. This system was developed to meet the needs of the ever increasing e-road bike sector, where weight and integration is highly desirable amongst consumers.
This system uses a 252Wh battery which is concealed within the downtube of the bike. This is a comparatively small capacity when compared with other bikes, but the Gain is aimed at riders who only use assist occasionally, so this shouldn't be a problem. A realistic range of 50 miles is achievable if the assist is used sensibly, and there is an optional range extender bottle battery available.
The X35 ebikemotion system doesn't produce anything like the amount of torque or feel as the Bosch motor – think of it more like riding with a really strong tailwind and you'll get the picture. As Orbea say on there website the Gain is 'designed to enhance your ride not dominate it'.
I would agree with the above statement. If you're already relatively cycling fit, but are fed up battling headwinds and short sharp hills on your commute to work, the Orbea is a game-changer.
Conclusion
The Orbea Gain F35 is the perfect solution for the commuter cyclist who wants the benefits of e-assist without the extra weight. It has all the accessories you'll need for commuting and has decent Shimano hydraulic brakes and a very wide ratio 11-36 9-speed cassette giving the rider plenty of gear range for hill climbing. It has all the zip of a road bike, and has very nimble handling, which make it perfect for negotiating city streets.
Buy Now: Orbea Gain F35 Electric Bike £1949
---
7. Ribble AL e Fully Loaded Hybrid Electric Bike
The excellent Ribble AL e Fully Load Hybrid e-bike uses exactly the same X35 ebikemotion system as the Orbea Gain, making it another lightweight option for the daily commuter. I absolutely love the design of the AL e – it blends classic styling with modern components and a frame that is inspired by their tough CGR AL e electric gravel bike.
The AL e uses SRAM's excellent NX 1 x 11 gearing with a massive gear range courtesy of an 11-42 rear cassette paired with a 42t front chainring. The package is finished off with excellent Shimano UR300 flat-mount hydraulic brakes and a choice of tyres. Schwalbe Marathon's are fitted as standard but you can opt for the G-One Allround as in the photo above.
Conclusion
I'm a big fan of Ribble Electric Bikes and the AL e Fully Loaded is a great bike for riding on a daily basis. It's very light (for an e-bike), it looks fantastic and has a good specification for the price. The only competition to the Ribble on this list is the Orbea Gain F35 – both bikes are similar in a lot of ways, but I would say the Ribble offers a slightly better specification for the price.
Buy Now: Ribble AL e Fully Loaded Electric Hybrid Bike £1999
---
8. Orbea Optima E50 2020 Electric Bike
If you're after a step-thru electric bike, but don't want to be dealing with the excess weight of the typical mid-drive. The Orbea Optima E50 is the perfect solution.
The big selling point with the Optima is the fact is uses the super-lightweight X35 ebikemotion drive system, meaning overall weight is kept to a minimum. In fact the Optima E50 weighs in at just under 16kg making it around 7 – 8kg lighter than the average mid-drive step-thru hybrid e-bike.
There is a trade-off of course – the small X35 ebikemotion hub motor won't produce the high torque output of a mid-drive and the 252Wh internal battery will give a lower assisted range. But if you're after a comfortable, lightweight commuter e-bike that will take the sting out of hills and help you to get to work feeling fresher, then the Orbea is a great choice.
Gearing is perfect for city riding with a 42t front chainring and 12-32 8-speed rear cassette. Braking is provided by simple Shimano TX805 mechanical disc brakes – these don't have the bite of hydraulics, but they're easy to maintain and more than adequate for the average commuter.
Conclusion
The Orbea Optima E50 is, in my opinion an excellent option for the daily commuter who wants a lightweight, practical runabout. The internal battery and small rear hub motor help keep weight down to a minimum, which is especially useful if you live in a flat.
As far as comfort and practicality is concerned, the easy-entry frame combined with an upright riding position and high-volume 700 x 50c tyres make the Optima E50 a great choice. It won't give you the boost of a Bosch or Shimano Steps mid-drive motor, but the assist it does provide is subtle but very useful for moderate hills and riding into a headwind. The small internal battery will give the rider an assist range of between 30-50 miles which should be more than enough for the daily ride to work.
Buy Now: Orbea Optima E50 2020 Step-Thru Electric Bike
---
Conclusion
So, what is the best electric bike for commuting on? As with everything bike-related there is no clear winner. All of the e-bikes featured in this article have something for everyone.
If you are already reasonably cycle-fit and are just looking to get to work a bit fresher and not so sweaty, then the Orbea Gain F35 and Ribble AL e are perfect. If you live in a flat and have to carry your bike up stairs these bikes are also ideal as they both weigh 14.5kg and are substantially lighter than the rest.
The Orbea Optima E50 is also a great choice for those of you who are looking for a comfortable, practical and lightweight electric bike – it's only a bit heavier than the Gain and has the benefits of a low-step frame.
For sheer value for money and all-round versatility, the NCM Milano Max is hard to beat. It has the most powerful battery in this group test, and also the most powerful motor (in terms of torque). It's also very comfortable to ride and has a unisex frame design. Unfortunately there is limited option for frame size.
Both the Raleigh e-bikes offer good value and specifications for their respective prices. The Array Crossbar is the cheapest bike on this list, and has everything you need for riding to and from work.
Both the Cube Touring hybrid One and Scott Sub Acive ERide 30 are excellent bikes. The Cube nudges ahead in my opinion for sheer value. In fact it's one of the best specced Bosch-powered e-bikes currently available at its price and it has the added benefit of being available in a regular and step-thru frame style.
Final Thoughts
Whatever you decide, I'm confident that riding an electric bike to work will have a positive effect on your life.  Not only will it save you money, but also help you look forward to your daily commute, instead of having to dread wasting time being stuck in traffic or being crammed on to a bus or train.
If you need any help or advice choosing the right e-bike for you, leave a comment below and I will reply within 24hrs. Thanks for reading and ride safe!
Please follow and like us: